Experience The Difference
With over 25 years of improving your massage practice,
HobaCare Jojoba provides genuine peace of mind for you and your client.
"The glide is perfect and I have yet to find another product that can rival its positive effects on the skin"
– Jessica Collishaw, West Nyack, NY
"Your product is far superior compared to others I have tried...

It is excellent for hot/warm stone therapy as well as any modalities or massage techniques

"
– Robert Mendoza, RMT, Crosby, TX
"

I started to get feedback from my clients.

I literally got Facebook messages like "what did you use on me – it's so good!""
– Michelle, Owner of Lumina Massage
A New Kind Of Massage Product
THIS IS NOT AN OIL! We repeat… THIS IS NOT AN OIL! 
Pressed from a seed (not a nut), jojoba extract is naturally a liquid wax ester that is uniquely almost molecularly identical to the sebum our skin produces.
If you are wary of using oil in your massage practice – we don't blame you! Allergies, rancidity, greasiness, and staining can often steer LMTs away from choosing oil (and even lotions or gels). HobaCare Jojoba is free from all of those issues. Even those who have tried other brands of jojoba in the past notice a difference with HobaCare Jojoba. This is due to our signature first-press specification which prioritizes quality over quantity. It is unrefined, cold-pressed, and always free from pesticides, parabens, petroleum, and fragrance.
LMTs report needing to use less per session than other products, with no compromising grip for glide.
Clients enjoy moisturized skin and walk away eager to maintain it. Since HobaCare doubles as daily skincare (and more), it makes a seamless retail item for your practice, earning you more money!
Never lose clients due to reactions from allergens, additives or irritants in your product. HobaCare is one, pure ingredient, a seed extract that is naturally non-allergenic and safe for all skin types.
Pure jojoba is naturally shelf-stable, meaning you never have to worry about it expiring!
One of the biggest cost savers we hear about? HobaCare is non-staining to natural fiber sheets! No more quality linens ruined from stains and rancid odors. Your investments are protected.
Get Your Sample and Feel the Difference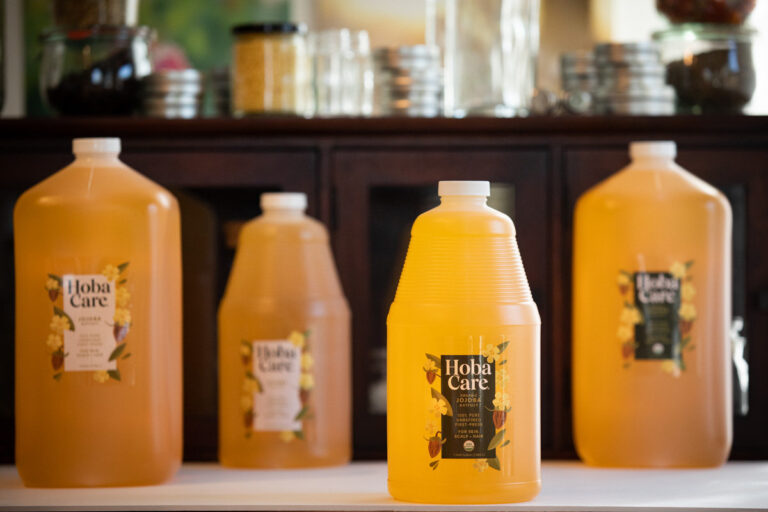 Jojoba is our specialty. We love to describe how greatly HobaCare Jojoba differs from oils (and even from other brands of jojoba) and how this benefits our discerning customers. At the same time, we want to reach as many as we can to share our product. This means you will see us refer to HobaCare as jojoba "oil" in some places on our website/blog, due to that being the most recognized term for search engines, etc. We believe in being enthusiastically transparent, so we hope you'll give us a call (1-800-256-5622) or e-mail with any questions! We absolutely love hearing from you.