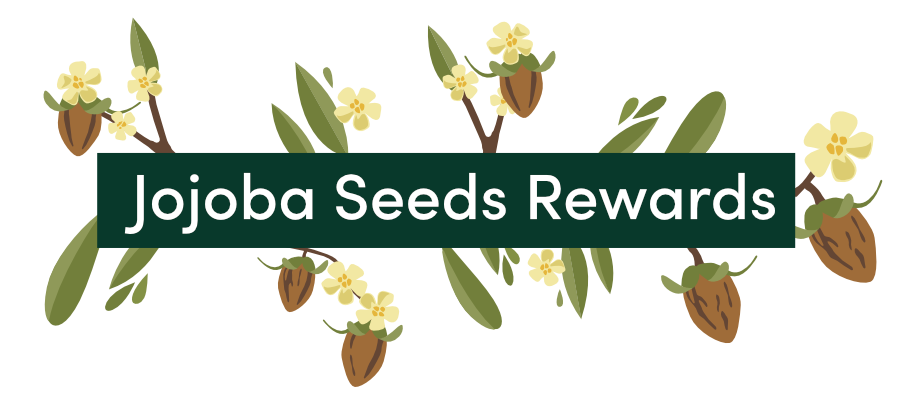 Join our Jojoba Seeds Rewards program and start earning rewards and discounts on the products you love!
Earn rewards for each dollar you spend.
Thank you for being a wonderful customer of The Original Jojoba Company! You are considered our friends since we have known many of you for over 20 years! We designed our Jojoba Seeds program to reward you for shopping with us and helping to spread the word about our 100% Pure HobaCare Jojoba and HobaCare products. Signing up is simple and your savings start adding up right away.
Here's how the Jojoba Seeds Program works
You'll earn one Jojoba Seed for each dollar you spend, plus bonus Seeds when you help us spread the word about The Original Jojoba Company. 20 Jojoba Seeds = $1 saved on a future purchase. The savings will add up quickly!

Creating an account is simple and will earn you your first 20 Jojoba Seeds.

You earn seeds for every $1 you spend, plus bonus seeds for helping us spread the word.

Redeem your seeds for a discount on your next order at checkout.
Ways to earn Jojoba Seeds
Jojoba Seeds quickly add up to savings. For example, 20 seeds = $1 back in rewards and 100 seeds = $5 back in rewards. Log in to your account to start on the road to discounts!
Redeem Your Points At Checkout
Use Jojoba Seeds as a discount on any purchase by logging in to your account and applying them at checkout. Also subscribe to our email newsletter to be alerted about exclusive product savings and periodic "Double Point Days"!
Frequently Asked Questions
Almost anyone! The program is open to all customer of The Original Jojoba Company.
All you need to do is create an account on our website! Setting up your account automatically enrolls you in the program and earns your first 20 Seeds. From that point on, you'll earn additional Seeds for every purchase you make or bonus action you take.
No, your Seeds will never expire. Use them as you earn them or save them up for a larger purchase in the future. It's up to you!
Our customer service team can help answer any questions you might have. You can give us a call M-F 9-5 ET at 800.256.5622 or find more ways to reach out on our Contact Us page.