We offer wholesale jojoba oil pricing on our HobaCare Jojoba and HobaCare Organic Jojoba. We also offer 55-gallon drums of jojoba (180kg net) to manufacturers.
The quantities required to receive jojoba oil at wholesale prices are conveniently listed on the page.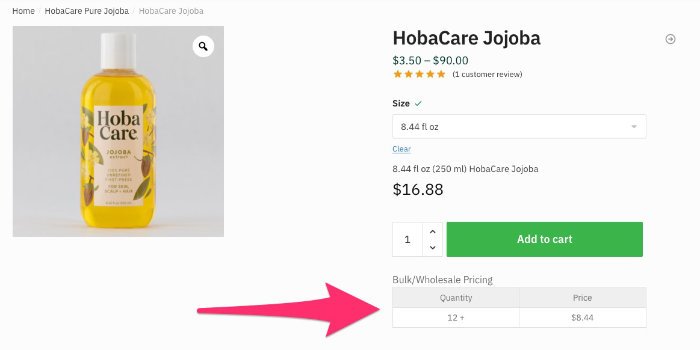 There is no need to open a wholesale account at this time. Simply add the minimum wholesale quantity to your cart and the price will be updated to reflect the wholesale price. Easy and fast!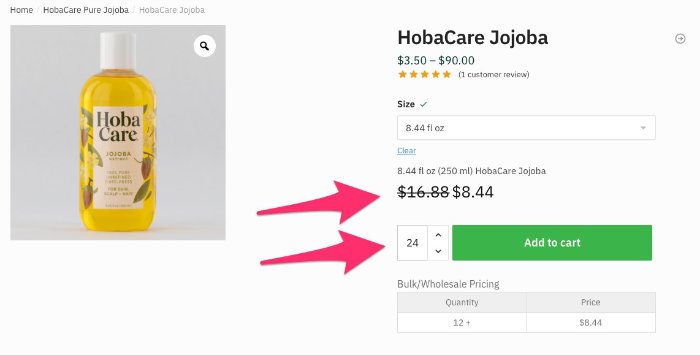 Start shopping now:
Thank you for your interest in purchasing wholesale jojoba oil from us. You will find our jojoba is far superior to other oils for most applications. Check out our blog for various ways to use HobaCare Jojoba Oil.
If you have any questions about jojoba oil wholesale prices or if you would like to inquire about a 55-gallon drum, use the contact form below or give us a call at 800.256.5622.
Drum and Large Quantity Wholesale Inquiries and Questions
Who Purchases Wholesale Jojoba Oil?
Quite simply… Everyone!
Of course, Retail Stores, Local Co-ops, Spas, and Salons purchase wholesale jojoba oil for resale on their shelves. When we undertook our recent rebrand, we designed the look of the labels with the store shelves in mind. Our HobaCare Jojoba will stand out and grab the customer's attention which leads to better inventory turnover and more profit. Once someone tries HobaCare Jojoba, they will be a customer and an advocate for life. It really is that good!
Massage Therapists have found that many of their clients like the way that their skin feels after a massage so much so that they inquire about purchasing jojoba for their personal skincare routine. Therefore massage therapists will buy wholesale from us and sell it to their clients for retail. This makes the client happy and is a good 'add-on' service. It also gives the LMT peace of mind to know that their client's skin is being nourished by the jojoba while the massage tends to the body.
Aestheticians prefer jojoba for many of the same reasons.  Jojoba is great at removing makeup, it is a good foundation for a mask, and it is the perfect skin conditioner. Aestheticians can offer "at-home" care packs to their clients that contain a bottle of HobaCare Jojoba.
HobaCare Jojoba is a preferred ingredient by many manufacturers because, along with its many benefits for skin and hair, jojoba has also been proven to extend the shelf life of other ingredients that it is mixed with. Because The Original Jojoba Company is directly connected to the jojoba farmers we can offer the lowest prices on the market and have direct control over the quality of the jojoba.
We have even had individuals purchase wholesale quantities of jojoba to give to family and friends. More recently people have been purchasing jojoba to donate to front-line workers to aid with the dry skin left behind from using instant hand sanitizer all day long.