*Jojoba is technically a wax ester and not an oil, to learn more about that see our in depth page with information about Jojoba. We refer to it as an oil because it's what people understand but prefer to call it an "extract" instead.
These days we see articles everywhere promoting self care. While this is wonderful, it can get confusing: where to start, when to squeeze different practices into your day and how to figure out which ones are a good fit for you and your lifestyle.
One simple option to try out is something called Abhyanga! You may have heard of it as it comes from the ancient Indian health system of Ayurveda, popularized through yoga communities and found much more often now in mainstream wellness for its many beneficial health practices.
Shop our selection of Jojoba products
Shop our selection of Jojoba products
Abhyanga, or Ayurvedic self-massage, is a very simple, very nourishing home practice to add to your morning or evening routine. All you need to carve out is an extra 5-15 minutes, depending on your preference. It is low effort, with a high payoff.
By applying warm "oil" (in this case, jojoba) to your whole body and massaging each portion gently as you go, you increase circulation, calm the nervous system, stimulate lymphatic drainage, improve muscle tone and suppleness of the skin – our largest, and very hard working organ.
If you're already familiar with Abhyanga, you may be surprised to find out jojoba is suitable for this practice. Often, and traditionally speaking, Ayurveda self-massage advises using sesame or coconut oil, depending on your personal constitution. (Google doshas for more info). But we have found out from Ayurvedic practitioners that jojoba makes a wonderful additional option that is neutral/supportive to all dosha types.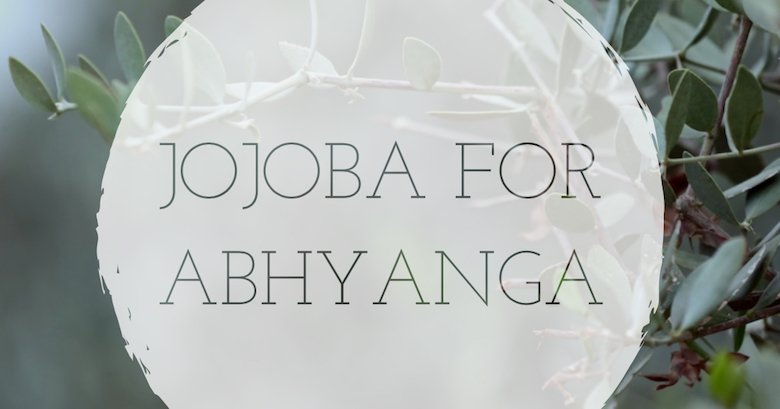 Some benefits to choosing pure jojoba oil for Ayurveda over sesame/coconut oils
– it's non-allergenic
– won't clog pours
– will not go rancid, even when heated repeatedly
– won't stain or remain in your towels
That last plus is a big one due to most Abhyanga instructions informing you you'll need to keep a separate towel for this practice because you'll eventually need to throw it out due to rancid oil remaining in the fibers even after washing. Oils and fabric, just don't mix, but jojoba does very well, as it washes out in a hot wash cycle (see our laundering directions for more info).
There are several variations of the practice, so don't feel you have to get it "just right" for you enjoy it's rewards. Traditionally, one is told to apply oil to the skin and bathe afterwards. Some give an updated twist of showering beforehand, which we recommend to save your plumbing and avoid slipping. Experiment – you'll find what works for you, as long as you just give it a try!
Simple Abhyanga Massage Oil Steps:
Take your small bottle of pure jojoba, and heat it by setting it in a cup of very warm water. Place a towel on your closed toilet set for sitting comfortably and place your bath mat under your feet, to keep from slipping.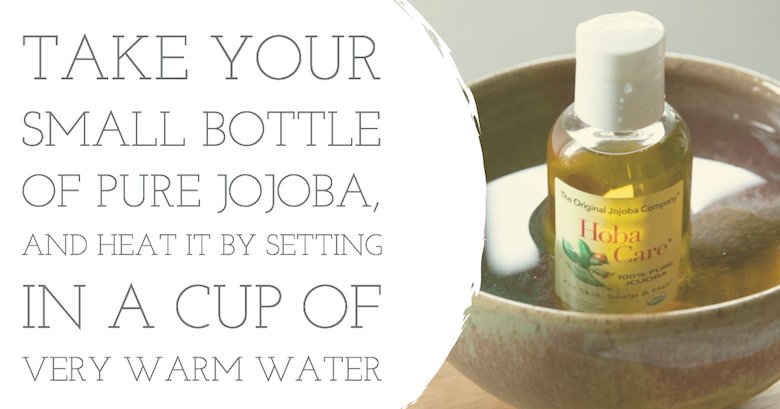 Start from your head, massaging the scalp, possibly without jojoba just yet, if you don't wish for it to be in your hair.
As you go, pour your warmed jojoba into your hands and work your way gently over your whole body.
Small circular motions to massage your facial muscles.
Perhaps use more pressure to work on loosening tight neck and shoulder muscles.
For the abdomen, follow the direction of your large intestine by moving clockwise, up the right side of your stomach, across and down the left side.
On limbs, use long strokes along your long bones and circular strokes over your joints.
Many instructions encourage you to massage by moving your strokes in the direction of your heart.
Finish up with your hardworking feet, making sure they don't miss out on the all the goodness.
If you have excess jojoba on your skin and you wish to go about your day, perhaps towel off a little, or enjoy a warm shower without using soap (but please be careful of it being slippery).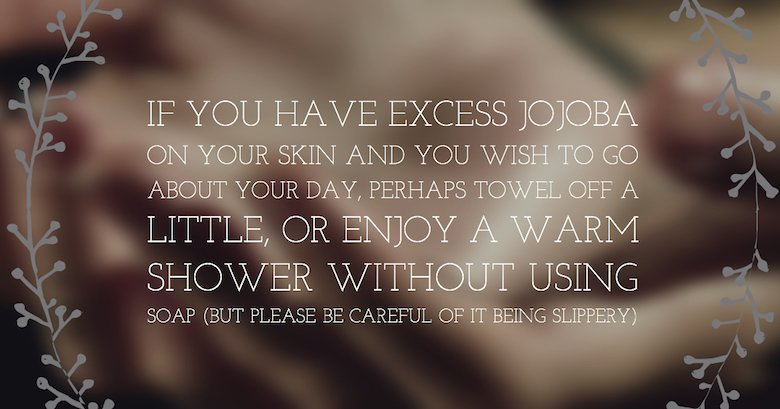 Extra self-care points if use this opportunity for a little mindfulness practice, simply by focusing your attention on your breathing and the action of each loving application of jojoba to your body, allowing thoughts and feelings to simply come and go during your self-massage.
Consider creating a space in your bathroom that tells your mind and body these 5-15 minutes are for your wellbeing, by making sure the room is comfortably warm or perhaps using your favorite essential oils for relaxation or energization. Even just placing a flower from your yard in a vase, or including a special momento on your sink counter can create a personalized feeling of healing.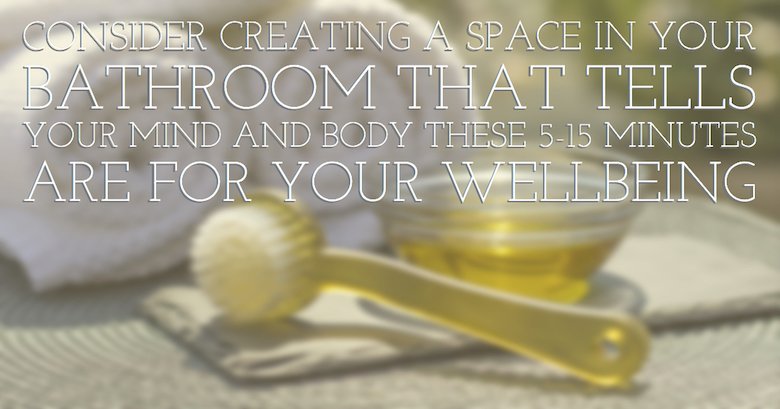 While there is a ton of information online about Abhyanga and Ayurvedic oil massages, do not hesitate to reach out to us with any questions or feedback. Have you tried this self-care practice? We'd love to hear your experience with it or tips for others who want to give it a try.