(This blog post is the first from our Director of Strategic Growth, Cari Balbo, herbalist and maker of herbal skincare products at Ridge Pond Herbals. Over the coming months, Cari will be sharing more herbal-infused jojoba recipes and different ideas for using jojoba here on our blog.)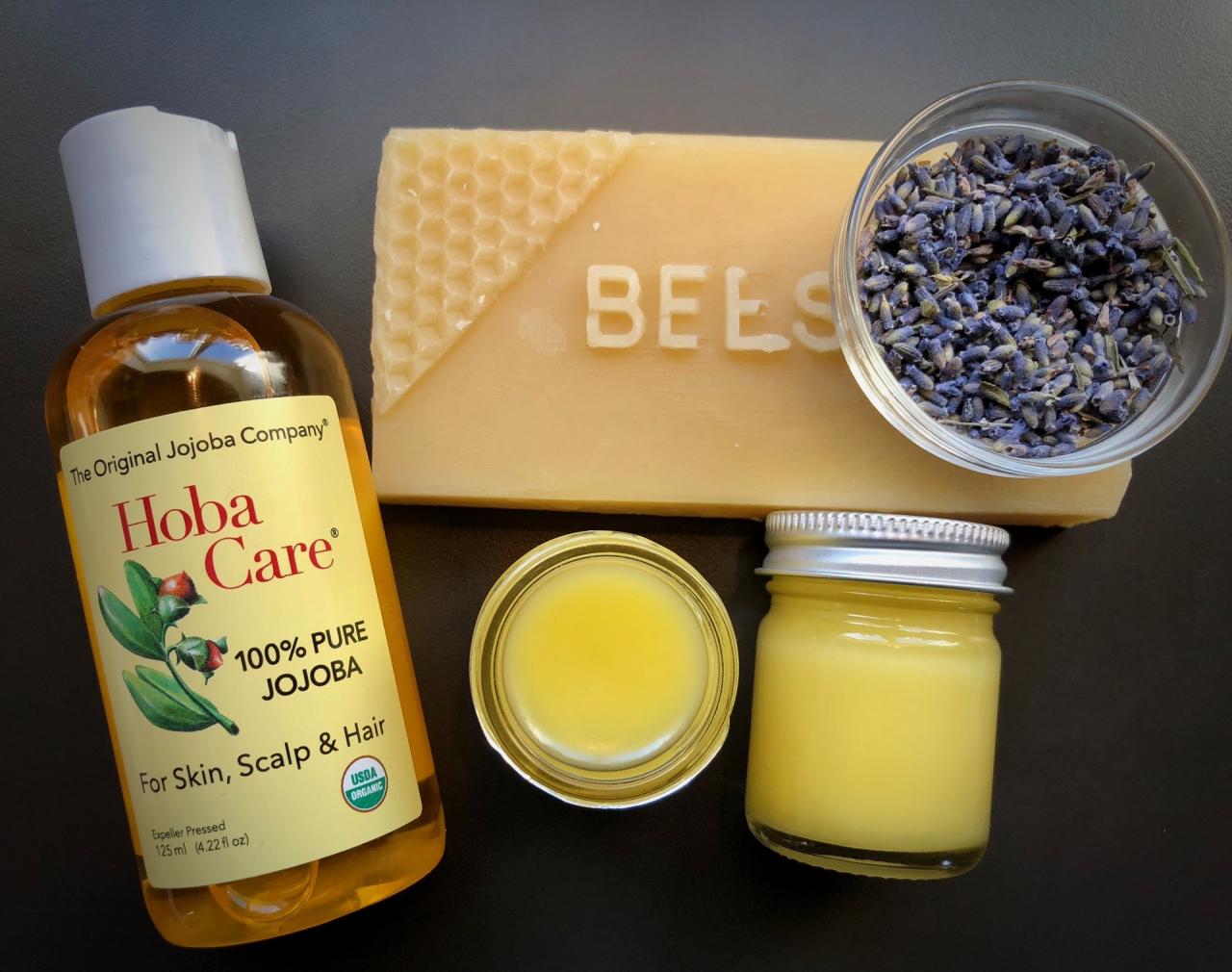 If you're looking for a gift to make for Mother's Day, here's an easy lavender jojoba oil and beeswax salve recipe that is both simple to put together and luxurious to use. All you need is our jojoba, some beeswax, dried lavender flowers, and/or lavender essential oil.
How to Make Lavender Jojoba Oil Salve with Beeswax
Shop our selection of Jojoba products
Shop our selection of Jojoba products
To start, you can use either plain jojoba or lavender infused jojoba (to make lavender infused jojoba, see our past blog post ). For every cup (8 fluid ounces) of jojoba you'll be using, weigh out 1 ounce of beeswax on a scale (of course you can make smaller amounts, just keep the proportions the same; for this batch I used 2 fluid ounces of jojoba and a ¼ ounce by weight of beeswax). Combine the jojoba oil and beeswax in a heatproof Pyrex or metal cup and place in an oven set at 200 degrees until the beeswax has melted (alternatively you can use a double boiler for this step).
Once the beeswax has melted, pour the hot liquid carefully (be sure to protect your hands) into a heat-proof container or containers (preferably glass or metal). If you didn't use lavender infused jojoba for this, or just want to up the lavender scent in your final product, now is the time to add some lavender essential oil. When it comes to essential oils, I follow the typically safe rule of 12 drops of essential oil per 1 ounce of liquid (a 2% dilution rate). The salve jars pictured here are each 1 ounce sized and had 12 drops of my favorite lavender essential oil added to each while the jojoba/beeswax was still liquid. If your salve container is a different size, adjust the amount of essential oil (you can always add fewer than 12 drops per ounce, just don't add more).
Once your salve is cool, you only need to label it and it will be ready for gifting. This salve is softer than some and will spread easily on the skin. It's lovely for hands, lips, and all-over body for a fragrant, skin-conditioning treat. The aromatherapy benefit of the lavender is an added bonus. Enjoy!