*Jojoba is technically a wax ester and not an oil, to learn more about that see our in depth page with information about Jojoba. We refer to it as an oil because it's what people understand but prefer to call it an "extract" instead.
Essential oils are quite strong and should be diluted before applying them to the skin, if not burns and other severe skin reactions can occur, particularly with children, the elderly, or those with sensitive skin. While some people recommend using some essential oils neat or undiluted, many practitioners recommend using a carrier oil for essential oil, especially hot or spicy oils like oregano and thyme. Using a carrier oil isn't just to dilute the essential oils, it also helps with absorption and minimizes evaporation of the essential oils. So what is a good carrier oil for essential oils?
We think jojoba oil makes the perfect carrier and base oil for essential oils (notice we don't call it an oil, because technically jojoba isn't an oil, it's a wax ester). Here's why we think you should use jojoba as a carrier oil for essential oils and the difference between a carrier oil vs essential oil.
Shop our selection of Jojoba products
Shop our selection of Jojoba products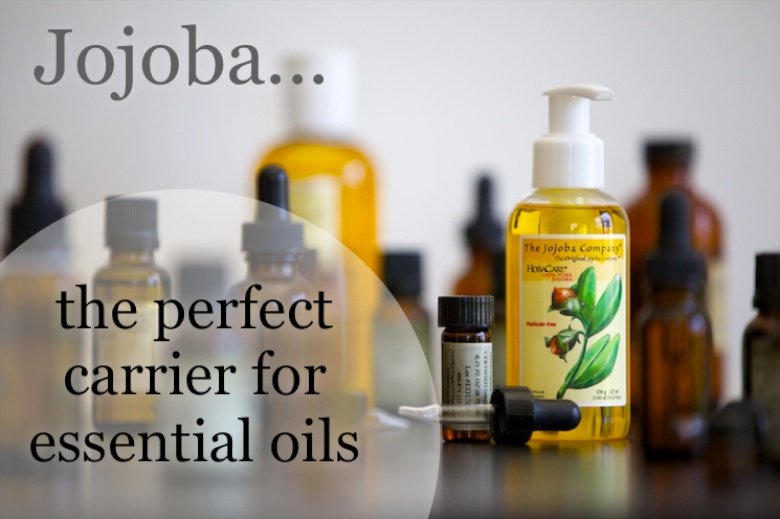 Jojoba is a "fixative". While it has a mild, almost imperceptible scent of its own, it takes on the scent of its immediate environment. After HobaCare has been in your skin for a minute or two, you will not perceive its scent, only your own.
Likewise, HobaCare Jojoba fixes, or makes permanent, the scent of essential oils you add to it. This characteristic makes HobaCare an ideal carrier or base for essential oils and perfumes. Adding essential oils to HobaCare enriches one's experience with the product, whether it is used for skin, scalp, hair, massage or any of the other applications described on this web-site.
Unlike other carrier and base oils for essential oils, such as sweet almond or grapeseed, HobaCare does not become rancid. HobaCare jojoba does not oxidize or turn rancid. It has an indefinite shelf life and will help extend the shelf life of your essential oil mixes. For best results store the mixtures in dark, closed, glass bottles or in glass bottles that are stored away from the light. Essential oils are light-sensitive and lose their effectiveness with prolonged exposure to the air.
Also, unlike other carriers, HobaCare mixes naturally with our skin's fluid; it does not stay on top of the skin but penetrates it, carrying the essential oil(s) with it into the skin. HobaCare is also non-allergenic. It's a liquid ester akin to the esters we produce in our own skin. Jojoba is the perfect carrier for persons with ultra sensitive skin.
Jojoba is also a non-staining product, since it's not technically an oil. It won't stain your clothes like fractionated coconut oil. If your essential oil rollerball leaks in your bag or on your clothes, jojoba will wash out easily. It washes out of clothing and linens with hot water and detergent. If used appropriately, the product will stay in the skin and will not come out on linens or clothing. For more on this, see our Laundering Instructions.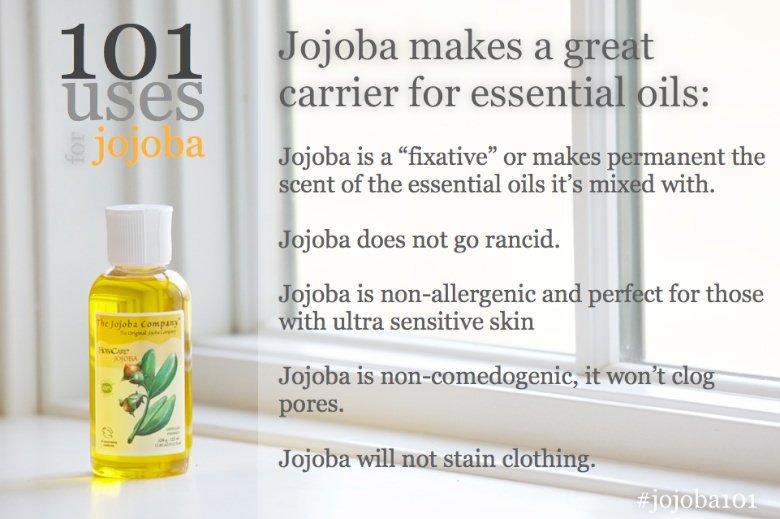 Try our various Mix of the Month Essential Oil recipes:
MIX OF THE MONTH LIST
Headache Blend
Peace of Mind Blend
Sinus Clear Blend
Itch Stop Mix
Muscle Rub Blend
As a general rule, the following proportions are recommended for aromatherapy recipes using jojoba:
– General Massage and Face Recipes: 20 to 25 drops of essential oil (or combination of essential oils) to 100ml (approx. 6 3/4 Tablespoons) HobaCare Jojoba
– Massage of Specific Body Areas: 35 drops of essential oil (or combination of essential oils) to 100ml (approx. 6 3/4 Tablespoons) of HobaCare Jojoba
– Bath: 20 drops of essential oil (or combination of essential oils) to 60ml (approx. 4 Tablespoons) of HobaCare Jojoba
– Hair: 50 drops of essential oil (or combination of essential oils) to 70ml (approx. 4 3/4 Tablespoons) of HobaCare Jojoba.
Write on the bottle containing the recipe, the name of the essential oil(s), the date, and the purpose for which the recipe was made.
Have you used jojoba as a carrier? What properties do you like most?
There are a few precautions with any essential oils: Never use undiluted, in eyes or around mucus membranes. Do not ingest. Keep away from children and do not use essential oil on children or pets unless directed by a professional (cats in particular are very sensitive to essential oils, never use on cats). Avoid while pregnant and with homeopathics. May cause skin irritation (test on a small patch of skin in an insensitive portion of your body with proper dilution rate).
For educational purposes only. This information has not been evaluated by the Food and Drug Administration.
This information is not intended to diagnose, treat, cure, or prevent any disease.