If you're looking for a natural cradle cap remedy that doesn't contain petroleum products or artificial scents that can aggravate the symptoms, use HobaCare Baby Jojoba to help alleviate the symptoms of cradle cap and soothe and heal your baby's scalp.
Cradle cap affects roughly 50% of babies, so there's a great chance that you will have to deal with this pesky problem if you have children. Did you know that adults can get cradle cap as well? Cradle cap is pretty much a cosmetic issue and will often go away on its own, but there are steps you can take to help it go away quicker.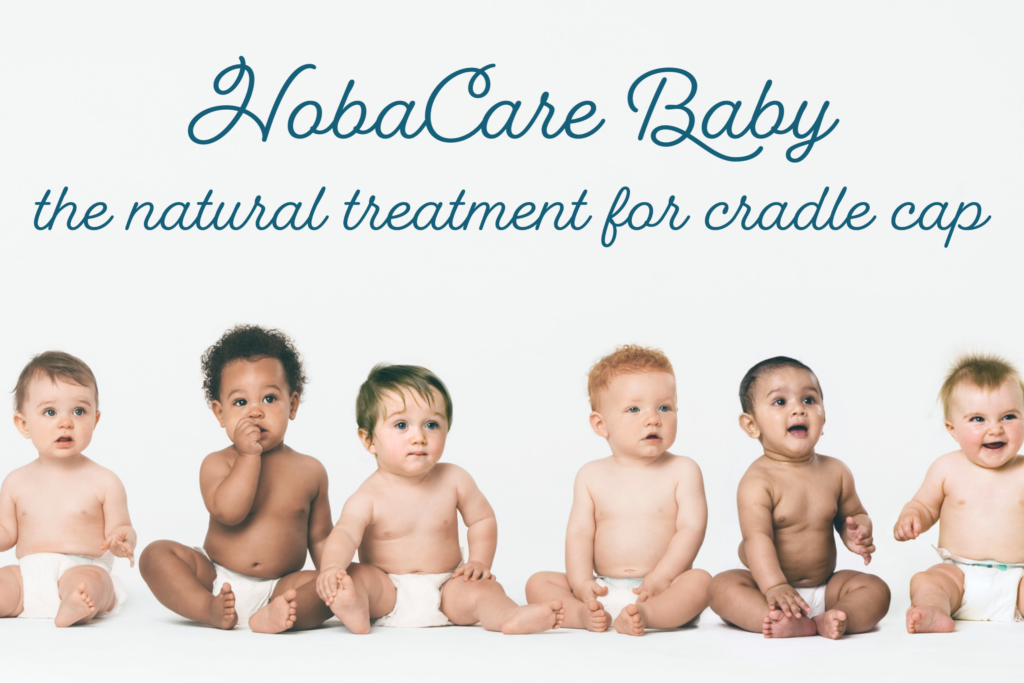 HobaCare Baby will gently strengthen and nourish your baby's delicate, sensitive skin and scalp without risk of adverse reactions, that's why it's the #1 natural cradle cap home remedy.
Jojoba's natural properties also help soothe inflammation, making it ideal for use after each shower and diaper change. HobaCare Baby is our 100% pure, unrefined golden jojoba in a special pump bottle for added convenience.
Babies have very sensitive skin which means they are more sensitive to harsh ingredients than adults are. Since jojoba is non-allergenic will not cause adverse reactions in infants, even those with ultra sensitive skin. If you have a baby with cradle cap try HobaCare Baby Jojoba before you try other treatments, especially those that contain chemicals or harsh ingredients.
Jojoba conditions the skin and will help relieve cradle cap almost immediately. Simple use a few drops of jojoba on your baby's scalp, massage into the scalp paying special attention to the areas affected by cradle cap. Use a soft brush to comb away scales, repeat as needed.
Jojoba oil is gentle and safe enough to use for baby hair and after each bath, consider adding it to your baby's daily skin care routine (and don't forget to you use in on your own skin as well) and you may be one of those lucky parents that avoid cradle cap and diaper rash entirely!
Shop our selection of Jojoba products
Shop our selection of Jojoba products
Of course our customers say it better than we can:
"I've used your jojoba for washing/moisturizing my face for about five years now. In that time, I've found other great uses as well. Last night I found yet another and it worked so well, I felt the need to reach out.

My toddler has perpetual cradle cap from needing EEGs for his epilepsy. We've never been able to find anything to get the EEG goo and the cradle cap out. Last night I massaged jojoba oil into his scalp and started combing it all out! 100% amazing.

So many uses for such a great, safe and local product."

-Kellie from Wiscasset, ME
Have you used jojoba oil for cradle cap? Tell us how it worked for you.