Naturally, we try to find as many uses for jojoba as possible. Since jojoba is a natural product, it's ecologically friendly if we can use it for in place of chemicals for various applications. Now that we are in the height of winter we wanted to share a use that we have found to be quite useful. Have you been wondering how to keep snow from sticking to shovels? Use jojoba to wax snow shovels!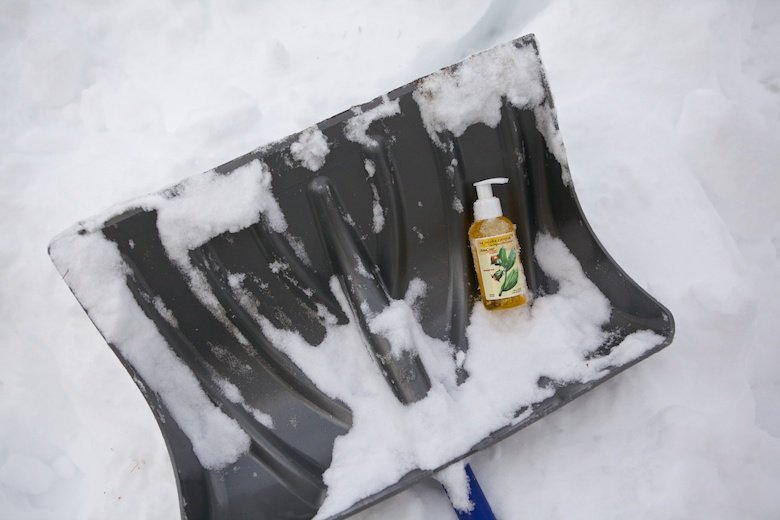 (this shovel has not had an application of jojoba, you can see the snow is sticking to the blade)
Yes – you heard us right – we use jojoba on our snow shovels to keep the snow from sticking!!! Since jojoba is technically a wax ester and not an oil, it will help maintain a very nice slick surface on snow shovels.
Here are a few tips for waxing your snow shovel:
Make sure snow shovel is room temperature. Since jojoba solidifies at temps below 50 degrees, it will solidify like a wax and you won't be able to apply it easily to a cold shovel.
Pour a teaspoon or so of jojoba onto the shovel and rub in with your fingers. Alternatively, you could use a paper towel, but why waste the jojoba, you might as well condition your hands while you condition your shovel. When you're finished, rub any remaining jojoba into your hands.
Now you're ready to start shoveling without the hassle of snow sticking to your shovel. Once you try this method you'll be hooked. Happy shoveling!
Shop our selection of Jojoba products
Shop our selection of Jojoba products
Let us know if you have success using jojoba to wax and condition your snow shovel or any other item you use in snow or water.