For all the same reasons that jojoba makes a great carrier for essential oils, it also makes a great carrier to infuse with botanicals (see our post dedicated to this topic here). Infusing jojoba with botanicals can take it up a notch, adding healing elements to an already amazing product. Jojoba's shelf stability and long life makes it one of the best mediums for such infusions. This calendula infused jojoba can be used as is, for dry or blemish prone skin, or it can be used as an ingredients in salves, balms, and other products. Calendula is said to have be antiseptic and anti-imflammatory properties as well as speeding up healing of wounds. These properties make it especially beneficial in troubled skin salves and mixes (like our acne treatment we will be posting soon).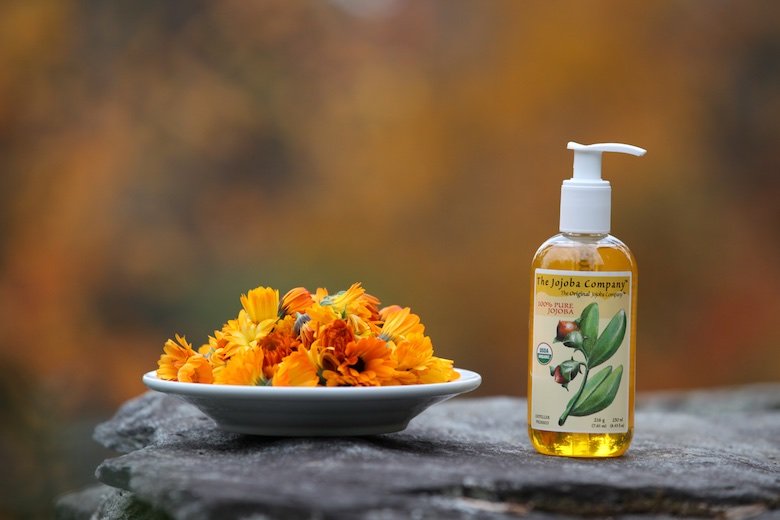 CALENDULA INFUSED JOJOBA
1. Place dried or fresh calendula flower petals in jar filling to about 3/4-2/3 full, quart size is generally a good size to start with. You can use fresh herbs, but make sure they are allowed to dry down for a day or two. The moisture in the herbs can increase risk of mold. So be extra watchful if you use freshly harvested calendula from your garden.
2. Top off herbs with jojoba. The goal is to keep herbs submerged under jojoba, be sure to leave some headspace for expansion.
3. Cap, shake jar and place jar in sunny windowsill. Allow to infuse for four to six weeks, shaking every couple days. It is helpful to write the date the mix was made on the bottom of the jar.
4. Strain herbs out of jojoba with cheesecloth, a couple of layers might be needed to remove all particles. Transfer infused jojoba to smaller bottles to be used as needed or gifted. Write date finished on bottom of jar and try to use up within a year. While jojoba has an indefinite shelf life, the herbs introduce properties that can go bad or increase risk of mold.
As with all herbal preparations, please test your calendula infused jojoba on skin in small amounts before using a lot. While jojoba itself is non-allergenic, the herbs used in infusions can cause reactions in some people.
Other Infusions you can try to make:
Lavender Infused Jojoba
Arnica Infused Jojoba
Chamomile Infused Jojoba
Shop our selection of Jojoba products
Shop our selection of Jojoba products