Ah…chamomile. Growing up, a bedtime ritual was a mug of Celestial Seasonings' Sleepy Time tea, a blend of calming, sleep-promoting herbs, primary of which is chamomile. I adore the sweet apple-like fragrance of chamomile flowers (the Spanish word for chamomile is manzanilla or "little apple") and growing it in my garden makes me, and the many pollinators found on the flowers on a sunny day, happy. Until several years ago I only used chamomile as a tea herb, whether on its own as a warm infusion (tisane) or blended into an herbal tea mix served warm or cold.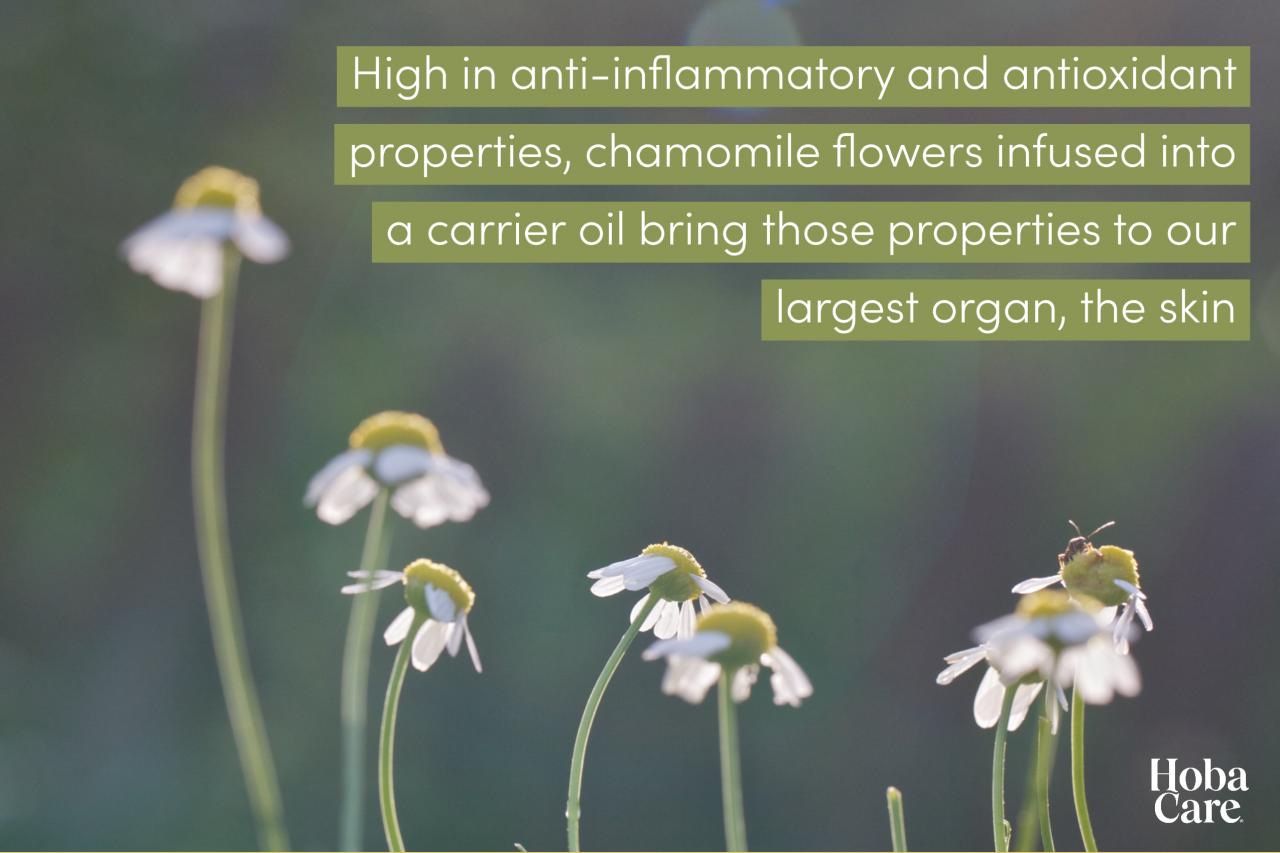 In time, I learned that chamomile also has benefit for our skin and now I love incorporating it into my skin care routine. (Head on over to Éminence Certified Organic Farm to read about all the benefits of chamomile for our skin) Just as chamomile can calm and sooth our nerves, it can do the same for our skin when applied topically. I won't make any medical claims here and encourage you to do your own research. Chamomile for the skin has documented use going back to the ancient Egyptian epoch as well as ancient Greek and Roman times. In your research you might find that the benefits of chamomile used topically may include helping to reduce redness, relieving irritation, evening & brightening skin tone, wound healing, sunburn support, and helping with acne. Chamomile is gentle and considered safe for baby's skin and sensitive skin types (though patch testing is important whenever trying something new). Chamomile is in the aster family and while rare, some people report allergic reactions to it along with calendula, marigold, and other related flowers.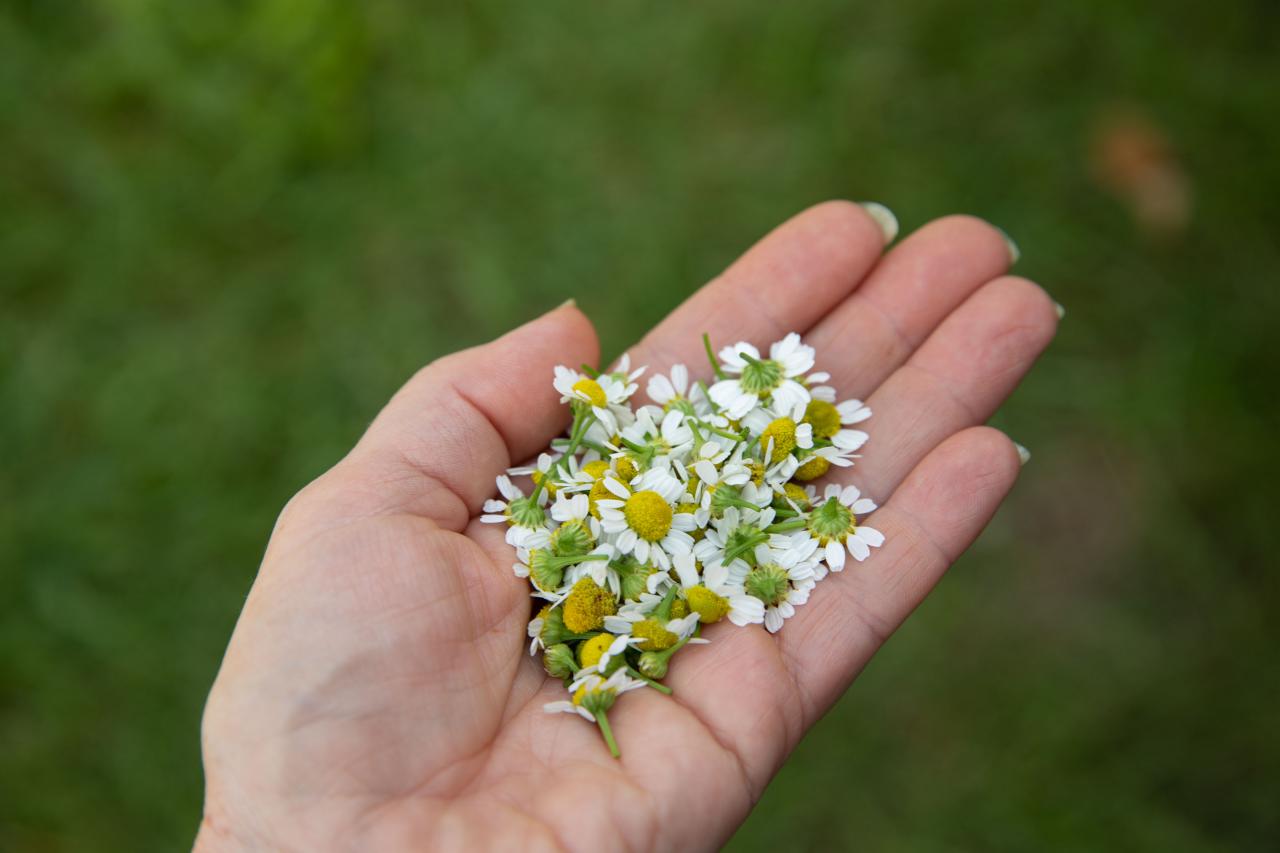 High in anti-inflammatory and antioxidant properties, chamomile flowers infused into a carrier oil bring those properties to our largest organ, the skin. When infused into jojoba (the preferred carrier here at The Original Jojoba Company, of course), chamomile's benefits are delivered more deeply into the skin because of jojoba's similarity to our own sebum and its superior penetrative qualities compared to oils (jojoba is a liquid wax ester, as so many of our customers know). The scent of chamomile-infused jojoba is almost as delicious as the herb itself and no matter what time of year transports me to a midsummer day in the garden.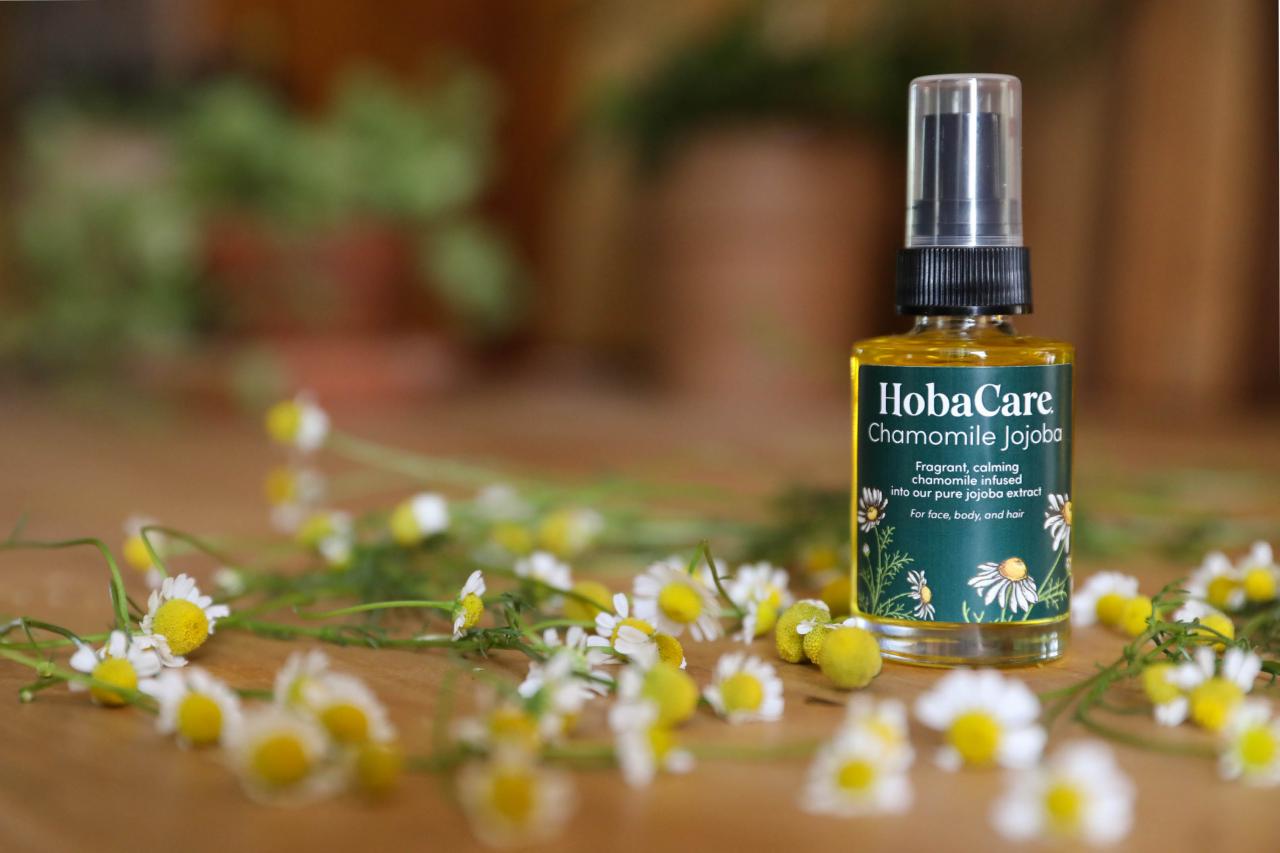 Chamomile Infused Jojoba can be used on the face, body, and in the hair as well. I love applying a few drops into my palms, rubbing my hands together and then gently rubbing into my face and through my hair. The aromatherapy benefit itself is worth it but I also love how soft it makes my skin feel and the fragrant shine it gives my hair.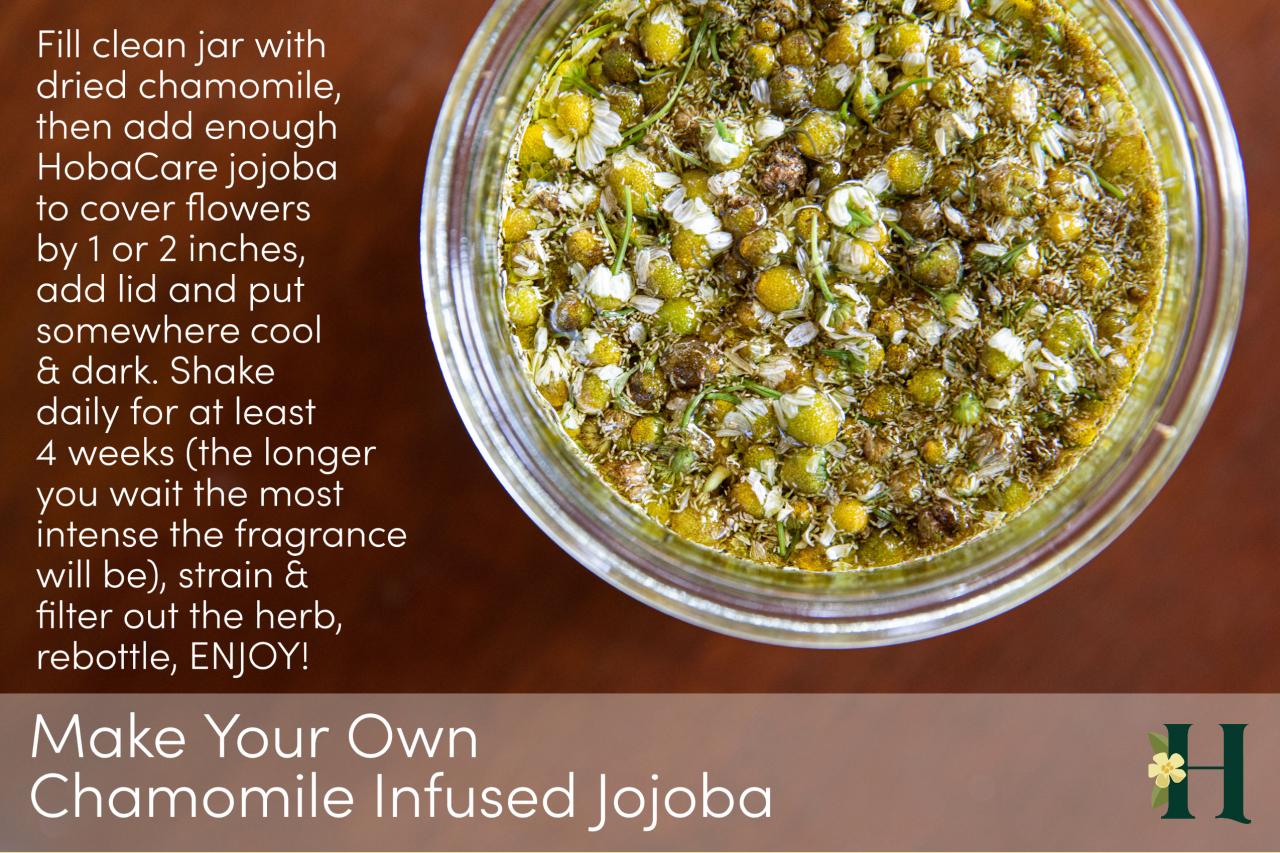 Want to make your own chamomile-infused jojoba at home? Take dried chamomile (your own or purchased from a reputable source) and put into a very clean jar. Add enough jojoba to cover the flowers by one or two inches, secure a lid on your jar and put somewhere cool and dark and shake daily. After at least 4 weeks, open your jar and smell. The longer you wait the most intense the fragrance will be. Once you like the chamomile scent of your jojoba, strain and filter out the herb, rebottle, and enjoy! If you're using dried chamomile and jojoba, your infusion should last indefinitely. Let us know how you enjoy it!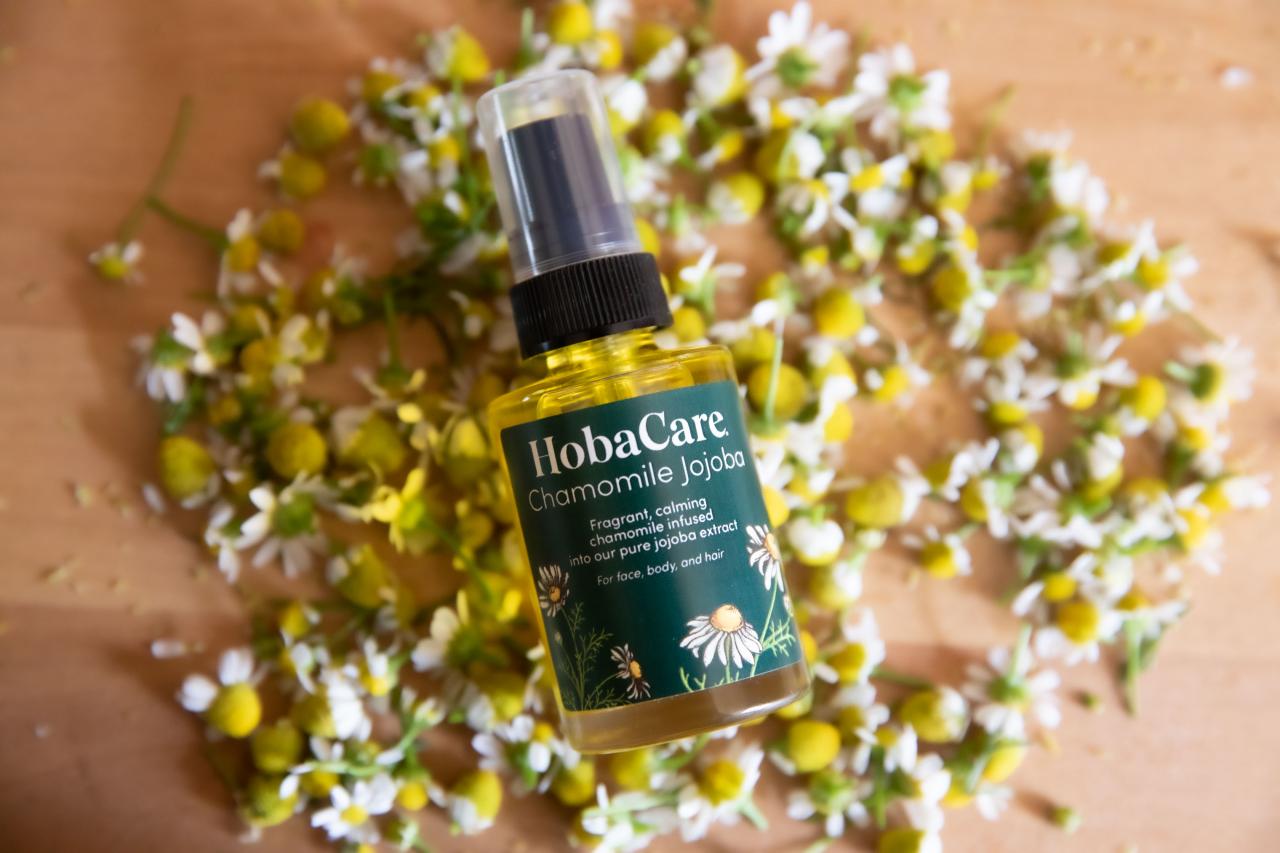 Other Infusions you can try to make:
Lavender Infused Jojoba
Arnica Infused Jojoba
Calendula Infused Jojoba
Shop our selection of Jojoba products
Shop our selection of Jojoba products