Hard lotion bars look like bars of soap, but they are a solid form of lotion. They are extremely useful on extra dry skin and for protecting skin from detergents and overwashing. Beeswax in the mix adds a waterproof barrier to the skin, yet still allows the skin to breathe. Here at Jojoba, Sally recommends using it before heading out to work in the garden. She says it makes it much easier to get your hands clean when you're finished with garden chores.
There are many recipes for homemade lotion bars out there, we found that far too many include canola oil and other oils that don't have a long shelf life and run the risk of going rancid. Some recipes include grapeseed oil and vitamin E to increase the shelf life of the finished product. This is where jojoba shines, since it's a wax ester and not an oil, it's long shelf life makes it the perfect ingredient in lotion bars. There's no need to buy additional ingredients to preserve your final product. Jojoba also keeps the bars from being too greasy like some we've tried that use oils of some other variety. We have also tried several lotion bars that are difficult to apply, not so when you use jojoba in your lotion bars. The qualities of jojoba make it the perfect ingredient in homemade lotion bars.
Shop our selection of Jojoba products
Shop our selection of Jojoba products
This is a quick and easy project, melting the ingredients takes the longest. Once you make a batch you'll be giving them out as hostess gifts, for baby showers, and just because you want to share the love of the hard lotion bar.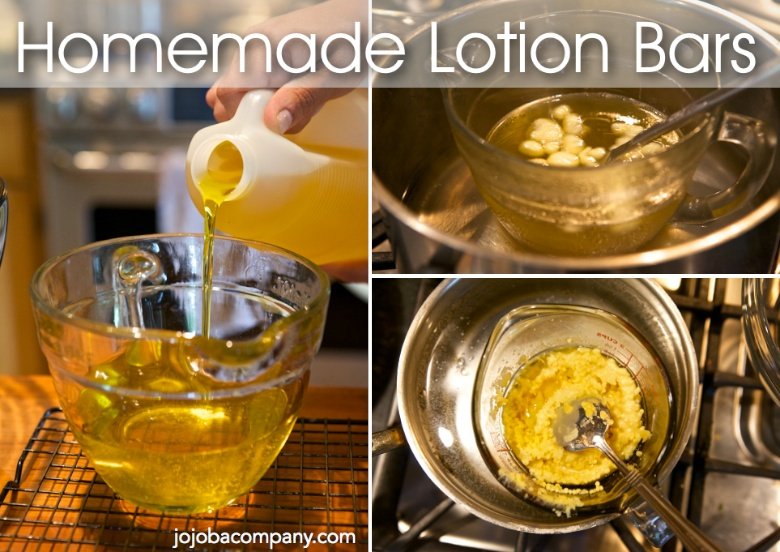 HANDMADE BEESWAX AND JOJOBA OIL LOTION BAR RECIPE
½ pound unrefined shea butter
½ pound organic beeswax
½ pound HobaCare jojoba
We recommend sourcing unrefined, fair trade, and organic ingredients if possible.
The weights/measurements aren't exact, if you don't have ½ pound of each simply use a third of each ingredient. You can melt and measure in a cup if you don't have a kitchen scale.
Place all ingredients in a double boiler, we use a glass bowl over a pan of simmering water. Watch carefully, you want the ingredients to melt but you don't want them to get super hot. Be very careful to not get any water in the mix, it can cause it to seize up and separate. Place molds on kitchen rack and pour melted mix into molds. After about 10-15 minutes you can empty the molds and refill them if you have extra liquid, if not allow them to cool in molds. This beeswax and jojoba oil lotion bar recipe makes a fantastic lip balm too, simply pour warmed liquid into small tins or empty lip balm tubes.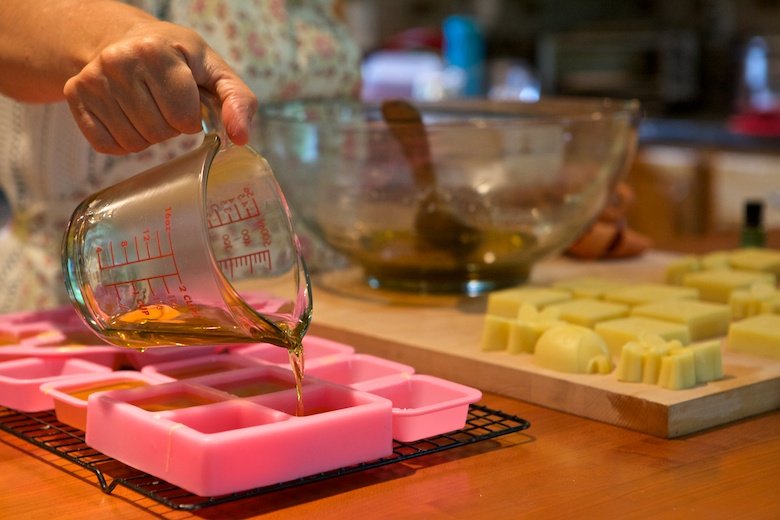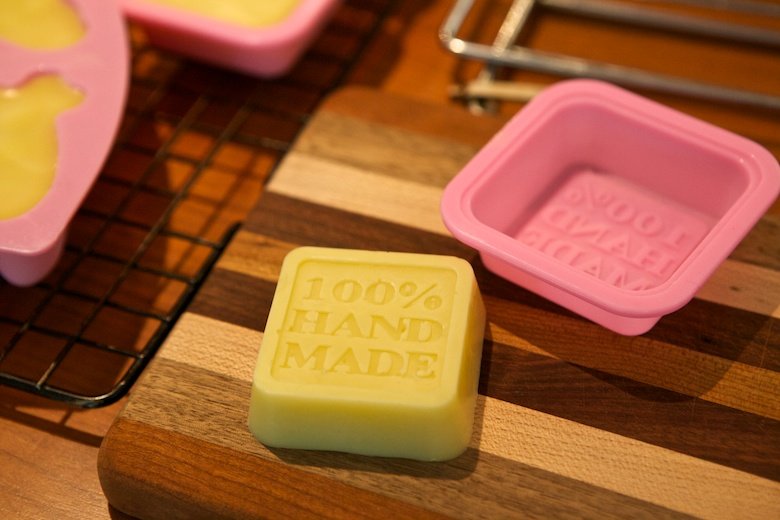 You might wonder: can I add essential oils to my lotion bars? YES – you can, though you have to add a decent amount for the scent to come through. Add essential then cool a small amount to check for scent. Use lemongrass and citronella for a bug repellant lotion bar. Use lavendar and vanilla oil for a calming nighttime blend. Rosemary and sweet orange would be a great mix for a daytime bar.
Have you ever used a lotion bar?