Jojoba oil* for the perfect shave, one of the things we love about HobaCare Jojoba is its versatility, which is exactly why we started the 101 Uses for Jojoba campaign. Since there are so many uses, we decided to highlight these uses on our blog. Today we will talk about USING JOJOBA OIL FOR THE PERFECT PRE AND AFTER SHAVE.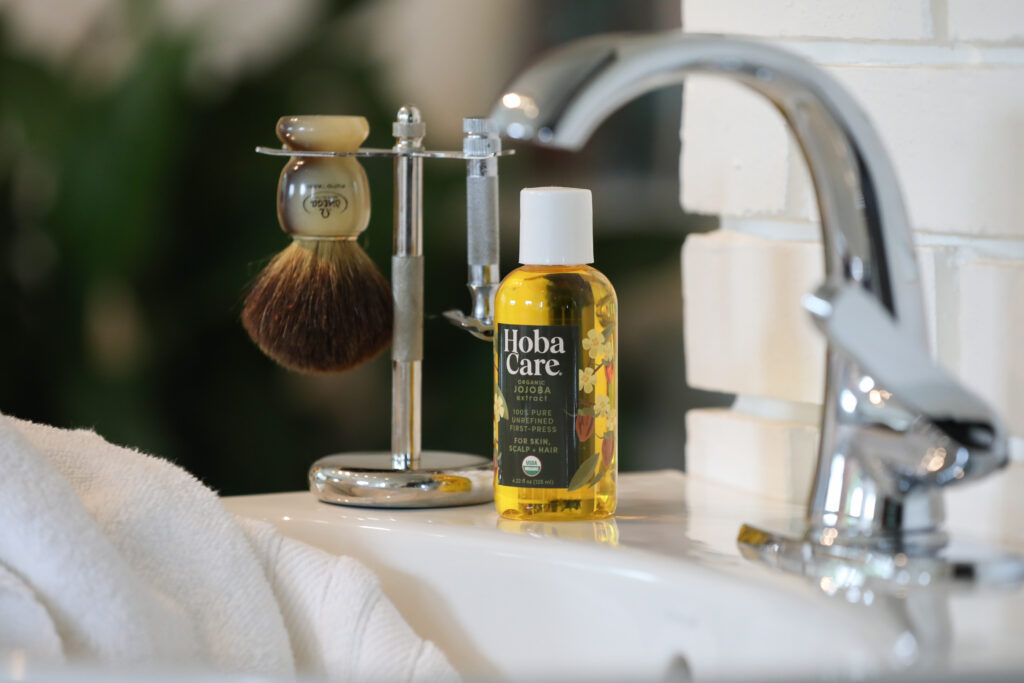 Jojoba can be used as a skin-soothing natural pre-shave oil, simply rub a few drops of jojoba between palms and into skin before shaving or mix equal amounts of jojoba and 100% pure aloe vera gel together. Be sure to wash hands well before picking up that razor to be sure you get great grip on your razor. After applying jojoba to skin, continue shaving as usual. We highly recommend using an all-natural, non-toxic shaving soap, if you can find a small producer all the better!
Shop our selection of Jojoba products
Shop our selection of Jojoba products
Since jojoba is non-allergenic and non-comedogenic, it is the perfect natural pre-shave oil for use on the face. HobaCare Jojoba conditions & softens allowing for a closer shave.
Jojoba is also highly beneficial as an after-shave balm, it soothes and conditions the skin, leaving it soft and smooth, but not oily or greasy. It also won't sting like many aftershaves that contain alcohol and other harsh ingredients. Simply rub a few drops of jojoba between your palms and massage into freshly shaved areas. Since jojoba is naturally anti-inflammatory, our oil is beneficial for soothing sensitive skin after shaving, reducing the risk of razor bumps, redness, and razor burn. It's especially beneficial when used as a pre-shave conditioner and again after shaving.
Jojoba is anti-inflammatory making it soothing to the skin and reducing risk of razor burn, it's especially beneficial for those with sensitive skin.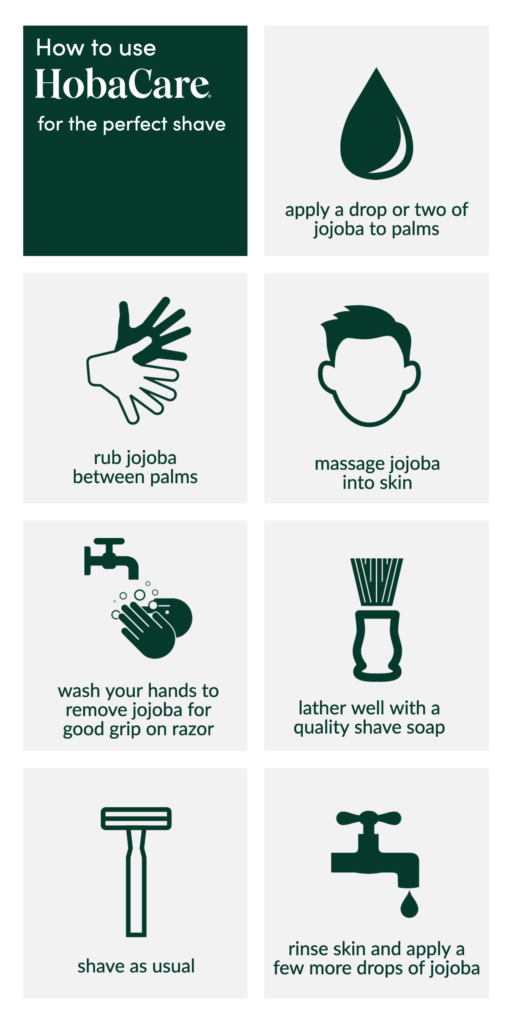 Making up a gift basket with jojoba and a few quality shave products is a great way to give not only a beautiful but also a useful gift to family & friends. We thought we'd recommend a few of our favorite products to make up the perfect gift for dad. We selected products that aren't too expensive, but products that are solidly
built and that will last for years to come. These make great groomsman gifts, Father's Day gifts, etc. Here are our top picks and the ones pictured in our gift box:Jojoba is anti-inflammatory making it soothing to the skin and reducing risk of razor burn, it's especially beneficial for those with sensitive skin.
We have found an old fashioned safety razor can't be beat. Not only it is much less irritating to the skin than a regular disposable razor blade, it is much less expensive as well and it produces less waste than traditional razors with disposable heads. The razor featured in our images is the Merkur Heavy Duty Safety Razor. We cannot recommend this product more highly. Brian, our president, has been using the razor in our photos for 20 years now. A Leaf Shave razor is a great long lasting, plastic-free alternative to the normal razors with disposable heads.
An authentic badger hair shaving brush is the ultimate tool when you want the perfect lather for shaving. This is the brush featured in our images, it has also been in service for 20 years as it was a gift at the same time with the safety razor.
Along with a badger hair brush and an old fashioned safety razor, the Escali Deluxe Chrome Razor and Brush Stand will not only keep shaving tools organized, it looks fantastic as well. There's no need to hide your shaving supplies in a cabinet any longer.
A large, handcrafted shaving mug is a great addition to a gift box we love. There are so many options in most locations to find great pottery locally. Try to find something at your local pottery studio or farmers market.
When it comes to shaving soap there are so many options. We recommend finding a local soapmaker that makes them. If you don't have any in your area, we love the Beer and Clay Shaving Soap from Orange Fuzz.
So, there you have it —> how to use jojoba oil for shaving!
Do you use jojoba pre/post-shave oil for your face, legs, and more? Leave a review on our product pages to let others know!
See more posts from our 101 USES FOR JOJOBA Series:
*Jojoba is actually a wax ester and not an oil, to learn more about that see our in depth page with information about Jojoba. We refer to it as an oil because it's what people understand but we prefer to call it an "extract" instead.