This week we are focusing on using Jojoba Oil for Oncology Esthetics (If you are a Massage Professional, check out our in depth page about using jojoba oil as a massage medium). We want to get to know our customers better and have you along for the ride! In our #HowDoYouHobaCare series we find out how/why individuals, professionals and businesses use our HobaCare Jojoba – and showcase their lives, services or products! (see list below for more in this series).
*Jojoba is actually a wax ester and not an oil, to learn more about that see our in depth page with information about Jojoba. We refer to it as an oil because it's what people understand, but we prefer to call it an "extract" instead.
Shop our selection of Jojoba products
Shop our selection of Jojoba products
We are delighted to once again chat with Janice Tome, an Oncology Trained Aesthetician through Oncology Spa Solutions. Located in Topsham, Maine, Janice Tome Skincare specializes in the care of sensitive skin, anti-aging treatments, acne and general skin health.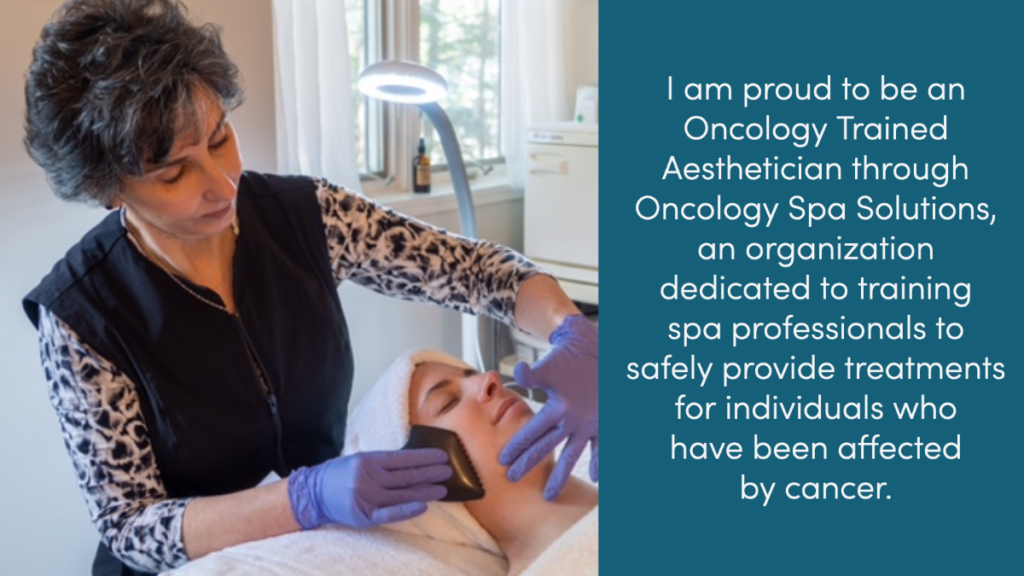 Can you tell us a little about when and why you decided to become an esthetician? Have you always had an interest in skincare?
I've been in the beauty industry for just about 35 years starting out as a hairstylist. Back then any education or training regarding skincare and makeup was part of the cosmetology program. Funny enough, my favorite part of the curriculum was on skincare and makeup. After working as a stylist for 18 years, it was time for a switch so I enrolled back in school to study esthetics. I feel very blessed to have a career that's so rewarding and fun!
We sincerely applaud you for having been trained by Oncology Spa Solutions. We are mission partners with OSS and would love to hear more about your experience learning about how to care for clients who are bravely coping with cancer and navigating recovery.
I typically see clients who are no longer having treatment. The training from Oncology Spa Solutions has been invaluable in regards to how to modify treatments for any client that's undergoing treatment or who has recovered. Some modifications will be temporary while others will be a forever change in how treatments are performed, especially if lymph nodes were removed and if there's a history of lymphedema.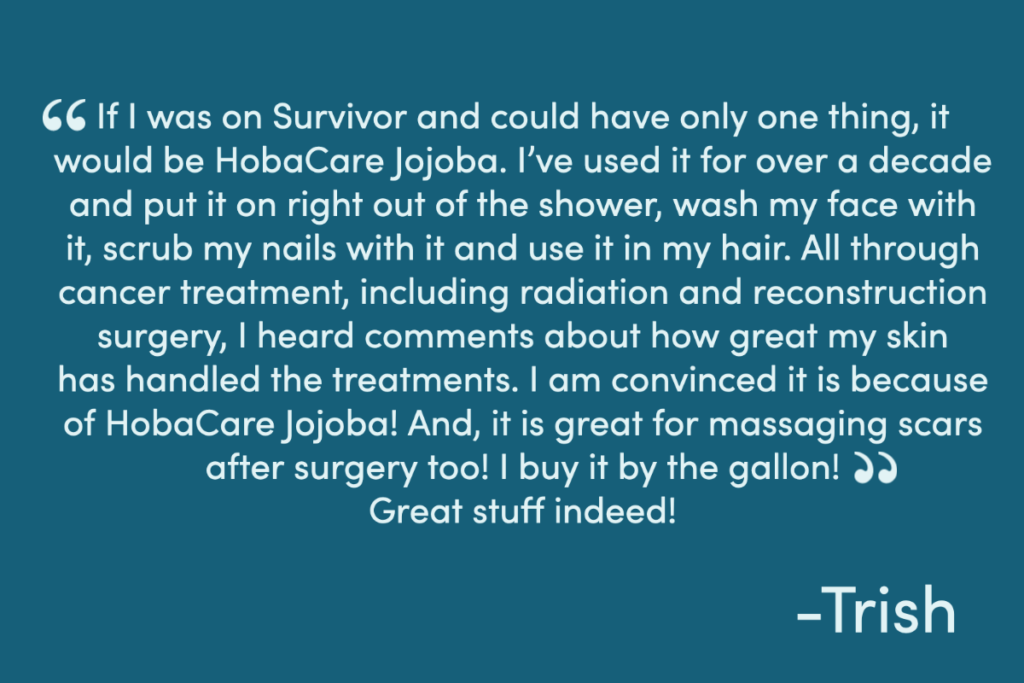 What do you look for in the skincare products you use in your practice and recommend to your clients? Why do you use HobaCare Jojoba Oil for Oncology Esthetics?
I choose and recommend products with clean ingredients and quality formulations that deliver results. Whether it's acne, oncology compromised skin or anti-aging concerns, it's important to support the integrity of the skin and keep inflammation down. Skin conditions won't get better if inflammation is present. The right products should be able to heal and repair, not cause further irritation. HobaCare Jojoba Oil fits in beautifully as jojoba oil is similar to human sebum, it doesn't clog pores and is calming to the skin. (we recommend HobaCare Organic Jojoba for oncology patients)
What do you advise your oncology clients to stay away from, when it comes to skincare ingredients?
I have a list to go by, but typically: fragrances, sulfates, phthalates, formaldehyde, coal tar derivatives, aluminum (antiperspirants) are a few examples of what to avoid. There are many and they often go by other names. I also advise to stay away from any acne, anti-aging or exfoliating products. Exfoliating or using products with active ingredients can make the skin more fragile while going through chemotherapy. Product choices should be of those that calm and hydrate and protect the skin. For SPF, I prefer mineral based as opposed to chemical.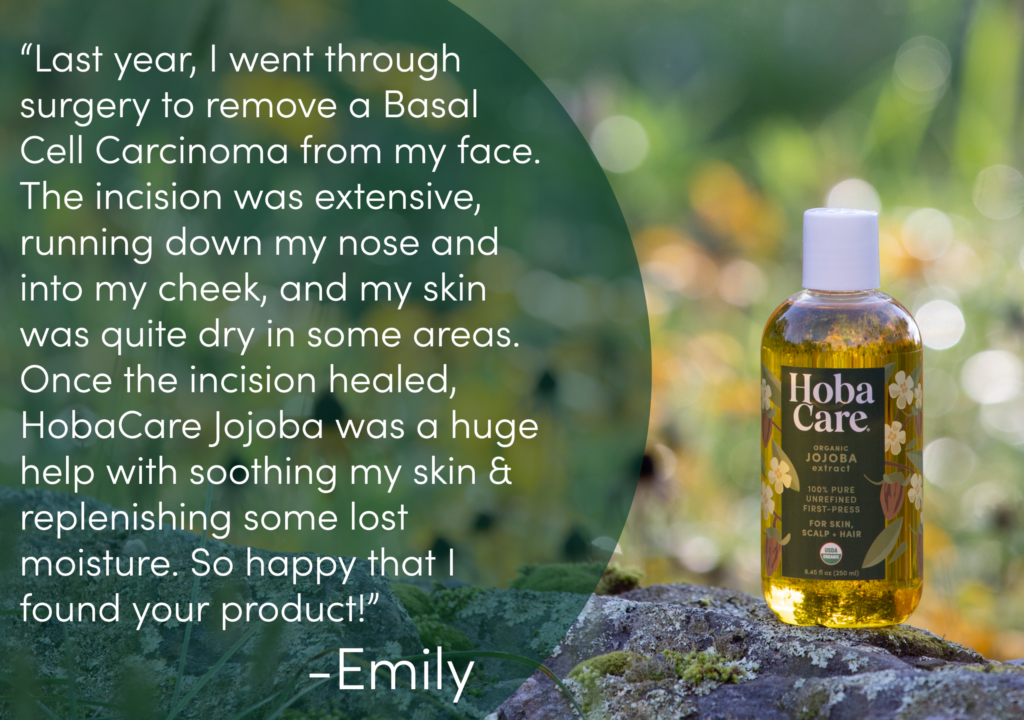 Sadly, it seems all of us have either been through, know of or love someone who has been through cancer of some kind. We all can empathize with or imagine how incredibly stressful a time that can be in someone's life. Is there a client story you can tell us that affected you and perhaps how receiving an oncology-specific facial affected them?
The majority of oncology clients that I've had the pleasure of working with have a few things in common, which is a deep sense of gratitude and resilience. Their bodies and their emotions have endured so much but their general attitude is one of optimism. They are not complainers and focus on the good things in life, their friends, their families and the care they've received from their medical team.
I have also encountered the disappointed, the impatient and the angry client. It's hard to turn a client away from a service because from their perspective their skin feels fine, maybe just a little dry. At the cellular level, the skin may not be as strong as it needs to be for waxing (especially if treatment left them with unexpected facial hair growth) or deep exfoliation soon after treatments end. It takes time for the skin to strengthen and repair and it's not unusual for the skin to be more dry and sensitive permanently. The skin may or may not return to what it was like after treatments finish.
A woman was once very angry with me for having her fill out the client intake form. She felt the questions were too personal, her cancer history was none of my business and was ready to walk out. I explained those questions were to help me give her an appropriate treatment due to her health issues but if she wanted to leave that was ok. She decided to stay and have her facial. As I was giving her a hand massage, she said she was sorry for being so angry. Cancer treatment was a rough road for her and she was glad she decided to stay for her facial appointment.
We hear the term self-care as a highly recommended practice these days. It must be even more important for oncology clients. Are there any at-home practices, big or small that you would suggest, skincare related or not?
Let me answer this by what I've learned from my oncology clients: Rest, stay hydrated, don't overdo it on the good days, learn to say no, learn to ask for help, have a positive attitude, surround yourself with positive people, avoid getting stressed, avoid people that bring you down, meditate, practice gratitude, express your emotions and put together a support team.
For anything skincare related, use gentle, nourishing products and moisturize head to toe…often. The skin can get really dry and irritated. Seek the advice of your medical team should the skin begin to crack or develop open wounds.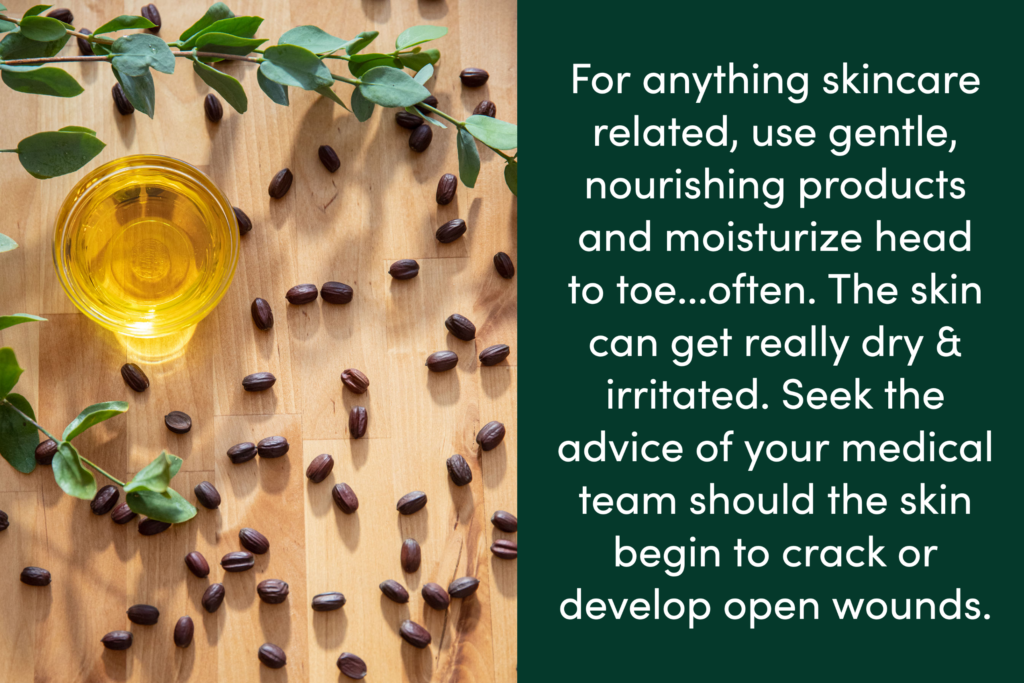 HobaCare Jojoba is not just for oncology clients – it's for anyone looking for a pure, non-allergenic moisturizer. Do you ever use HobaCare Jojoba personally, if not as a face and body moisturizer, for any of the lesser-known uses? (Such as a makeup remover, Gua Sha, hair conditioner, aromatherapy carrier, self-massage medium, sunburn soother, non-toxic kitchen cutting board conditioner, garden tool protectant, or leather sealant – just to name a few)
I personally use HobaCare Jojoba for facial massage, to remove makeup or add a few drops to my body lotion. In my treatment room I use HobaCare Jojoba for Gua Sha massage, as a pre-waxing skin prep and for post wax calming/wax residue removal.
For the lesser known, I add several drops of oil to a cotton round to clean my wax station and wax pot. The oil does a great job lifting strings and droplets of wax. A little wipe down with rubbing alcohol to remove the oil residue makes everything clean and pristine! A dab of oil on my brow trimming scissors lubricates the blades and the screw. After so many dips in the disinfectant, scissors don't work as smoothly. HobaCare Jojoba also works well to remove stubborn price tag stickers off of glass or other surfaces.
READ MORE POSTS IN OUR HOW DO YOU HOBACARE SERIES:
Do you use HobaCare Jojoba oil in your business or personal life?
Let us know! Your interview could be the next to show up on our blog! We'd love our readers and our social media followers to know – How Do YOU HobaCare?
*Jojoba is actually a wax ester and not an oil, to learn more about that see our in depth page with information about Jojoba. We refer to it as an oil because it's what people understand but we prefer to call it an "extract" instead.