Today we are discussing the Top 5 reasons Jojoba is the BEST hair oil for bald heads. Whether you are bald by heredity or hairstyle choice, losing one's hair can be a stressful and emotional experience, particularly when it is the result of chemotherapy. As someone who is facing or has faced this experience, you may be wondering what you can do to care for your bald head? This is where HobaCare Jojoba SHINES. In this article, we will discuss the TOP 5 REASONS JOJOBA IS BEST FOR BALD HEADS including a bald head as the result of chemotherapy. Psssst —>there's a BONUS best use at the end!
If you're specifically looking for a Natural, non-GMO, cruelty-free, vegan option for your bald head you are in the right place (see our certifications at the end of this article).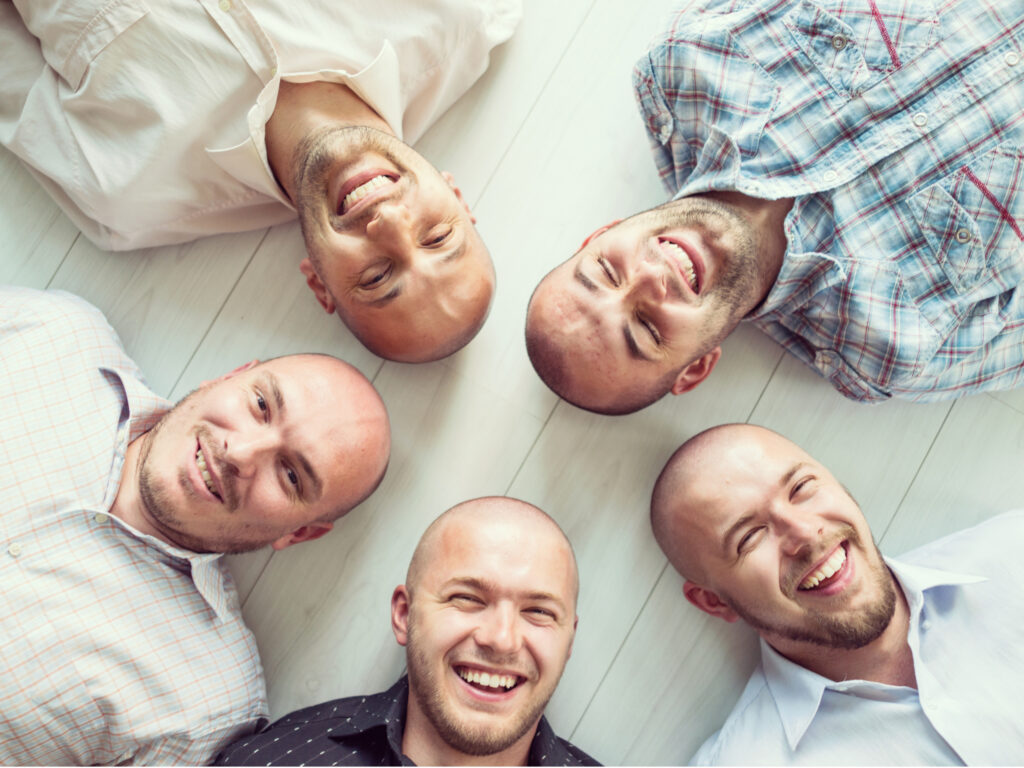 The number ONE reason Jojoba is the best oil for shaved heads – it Moisturizes and Soothes the Scalp!
Jojoba is the closest thing in nature to the sebum our skin produces, which makes it the ideal scalp conditioner. When you lose your hair, the scalp can become dry and itchy. HobaCare Jojoba oil for bald heads is an excellent natural moisturizer that can help to SOOTHE and HYDRATE your scalp. It is rich in vitamin E and other essential fatty acids that NOURISH and PROTECT your scalp & skin.
Additionally, because jojoba is similar to the natural oils that our skin produces, it is quickly absorbed, leaving no greasy residue. The naturally nourishing properties of Golden HobaCare Jojoba also help support the scalp's natural barrier function and protects against dryness.
Quick to absorb, yet still nourishing, HobaCare will leave your scalp silky, soft, and nurtured with a bit of shine, but not too much! Now you are starting to see why Jojoba is best for bald heads.
The number TWO reason Jojoba is best for bald heads – it Provides a Protective Barrier!
The scalp is exposed to a lot of environmental stressors, such as the sun's UV rays, wind, and pollution. HobaCare jojoba can help create a protective barrier on the scalp that helps to shield it from these stressors. This can help to prevent damage and keep your scalp healthy. Those who lose their hair due to chemotherapy can have an extra sensitive scalp and can benefit from this extra layer of protection.
Another reason jojoba oil is best for bald heads from chemo is that it washes out of natural fibers, if you are wearing beanies to protect your bald head, use a good detergent to launder jojoba from them. It also does not go rancid, so you don't have to worry about any "off" smells.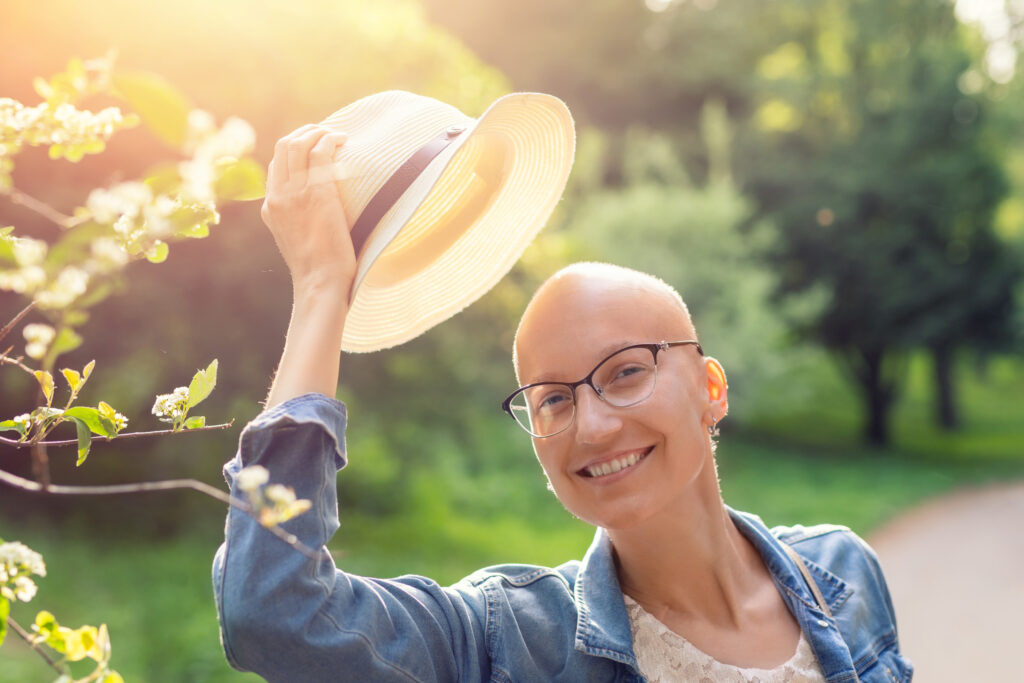 The number THREE reason Jojoba is best for bald heads – it Promotes Healthy Hair Growth!
While HobaCare Jojoba won't directly stimulate hair growth, it will create a healthy environment for your hair to grow. When your scalp is healthy, your hair is more likely to grow strong and healthy as well. The nourishing and protective properties of HobaCare jojoba can help to keep your scalp healthy and create an ideal environment for healthy hair growth.
This is especially important for those who have lost their hair during chemotherapy and are trying to regrow hair. Since jojoba strengthens the hair follicle, it can keep hair that you have healthier and less prone to breakage and dryness. So jojoba is the best moisturizer for chemo scalps and bald heads and it's also GREAT for those with a full head of hair, or those with partial baldness too!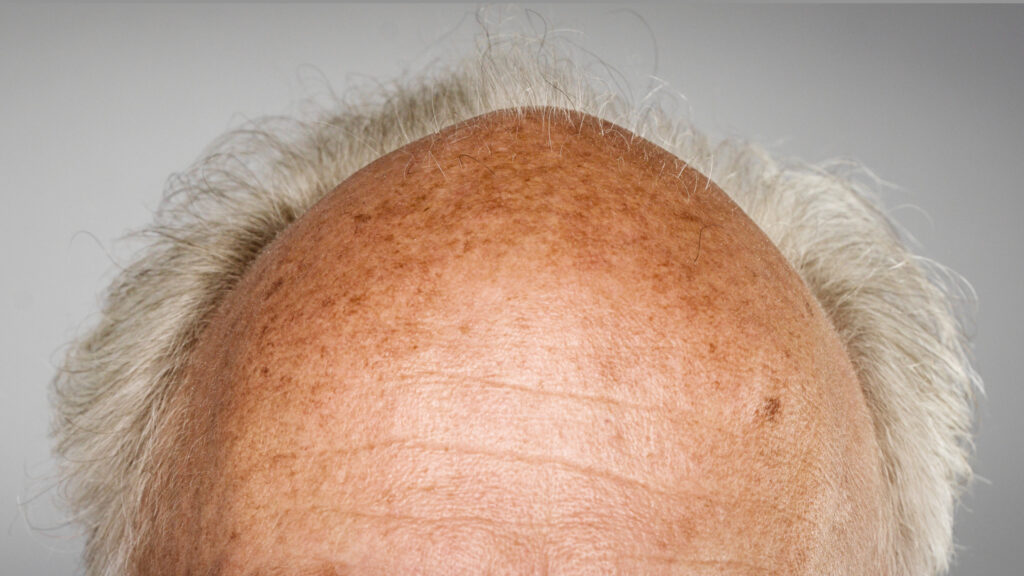 The Number FOUR reason Jojoba is best for bald heads – it Improves the Appearance of the Scalp!
When you have a bald head, the appearance of your scalp is a big concern. Flakiness, redness, acne, and other problems can be a problem. HobaCare Jojoba can help to improve the appearance of your scalp by reducing flakiness and dryness. Jojoba conditions the skin, reducing flakiness, redness, & scaliness! Your scalp will look radiant and healthy with a daily application of HobaCare jojoba. Apply a few drops of jojoba to scalp after showering, massage well into scalp. For extra radiance, try dry brushing before showering to help remove any dry skin. In fact, Jojoba is so great for the scalp that it's often used to help relieve cradle cap in infants (read more about using Jojoba for Cradle Cap here).
The Number FIVE reason Jojoba is Best for Bald Heads – Easy To Use!
HobaCare jojoba is easy to use. Simply apply a small amount of this scalp moisturizer for bald heads and massage it in. Because it is quickly absorbed, there is no need to rinse or worry about any greasy residue. You can apply it as often as you like, depending on your individual needs. We recommend adding a few drops of HobaCare Jojoba to the scalp after each shower. During dry winter months or dry periods, apply a few drops throughout the day to keep scalp nourished and moisturized.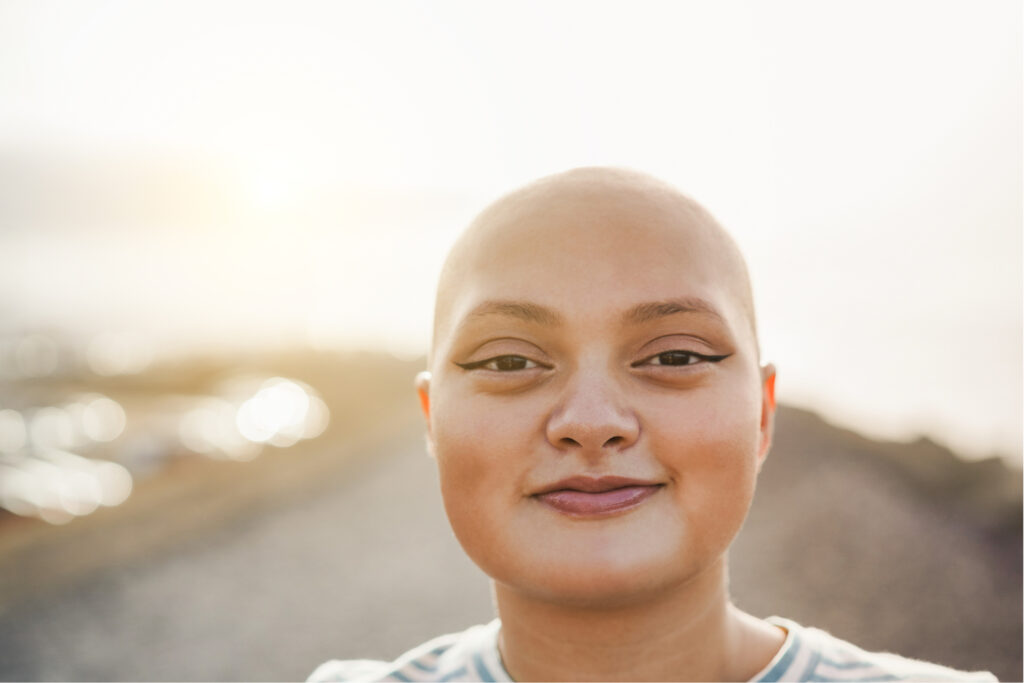 BONUS reason Jojoba is Best for Bald Heads from Chemo treatments – It's EXTRA GENTLE on Sensitive Skin!
Oncology massage therapists and estheticians use jojoba where purity and safety are essential. HobaCare Jojoba is perfect for all skin types, including extra sensitive skin. HobaCare Jojoba is safe for all existing skin conditions, such as eczema, psoriasis, rosacea and acne. Because this scalp moisturizer for bald heads is so gentle and non-allergic, you can use it even on ultra-sensitive skin, that skin that can't seem to take anything else. We recommend trying our certified Organic jojoba if your skin is EXTRA sensitive!
HobaCare jojoba is an excellent natural solution for bald scalp care, including a bald head as the result of chemotherapy. It provides moisturizing and soothing properties to the scalp, creates a protective barrier, promotes healthy hair growth, improves the appearance of the scalp, and is easy to use. If you are looking for a natural and effective way to care for your bald head, use HobaCare Jojoba.
To find out more on the why HobaCare Jojoba is perfect for sensitive skin during/after cancer treatment head on over to Integrative Cancer Review to read Geralyn O'Brien's article 'Jojoba and The Cancer Patient: Essential Facts for Glowing Skin with Geralyn O'Brien'.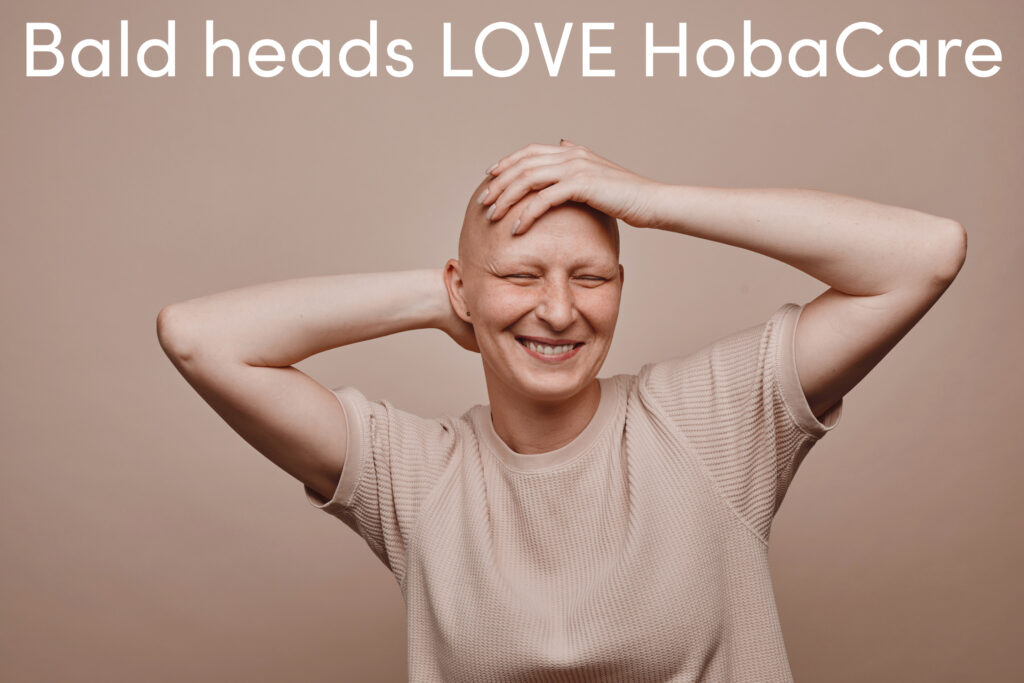 Jojoba is an amazing product for skin, scalp, and hair. In fact we say it's great for EVERY body – young and old. As you can imagine, since HobaCare Jojoba is one of the best bald head products, it's IDEAL for babies! In fact, it's so great for sensitive baby skin that we have HobaCare Baby, it's our same 100% Pure, First-Press Golden Jojoba in the bottles with a special label with baby specific information.
Use it after a bath and after each diaper change to soothe dry, chafed, irritated, and sensitive skin. Give your baby a soothing massage. HobaCare Baby relieves cradle cap. And remember, it's for the whole family and for skin, scalp, and hair!
Our 100% pure, first-press, unrefined golden jojoba is available in both HobaCare & HobaCare Organic Jojoba is certified CRUELTY FREE through Leaping Bunny. HobaCare Jojoba is also certified VEGAN as well as NON-GMO. You can rest assured that Jojoba is as good for bald heads as it is for the environment! If you'd like to try Jojoba for your bald head, use code: GoBald for 20% off + Free Shipping on an 8 oz bottle of HobaCare (one time use only).
The Original Jojoba Company is a vertically integrated company! This means that we are owned by the cooperative of jojoba farmers that grow our jojoba. From seed to skin, we control the entire process to ensure that HobaCare is the highest quality jojoba oil available anywhere! Read more about our company here.