Why use Jojoba for hair care? There are many reasons, but we will give you just the top five. Jojoba is a phenomenal conditioner and will leave your hair stronger, shinier, and more manageable! It's useful both as a deep intensive leave in oil treatment and as a frizz reducer. It can also be applied after washing hair and in between washing, whenever you need a bit of shine or whenever the ends feel dry.
Even if you don't have hair, Jojoba is a fantastic bald head conditioner (for those that are bald by choice or because of medical treatments or heredity). Jojoba can be applied to hair and skin when it is either wet or dry, making it versatile and easy to work into your normal routine.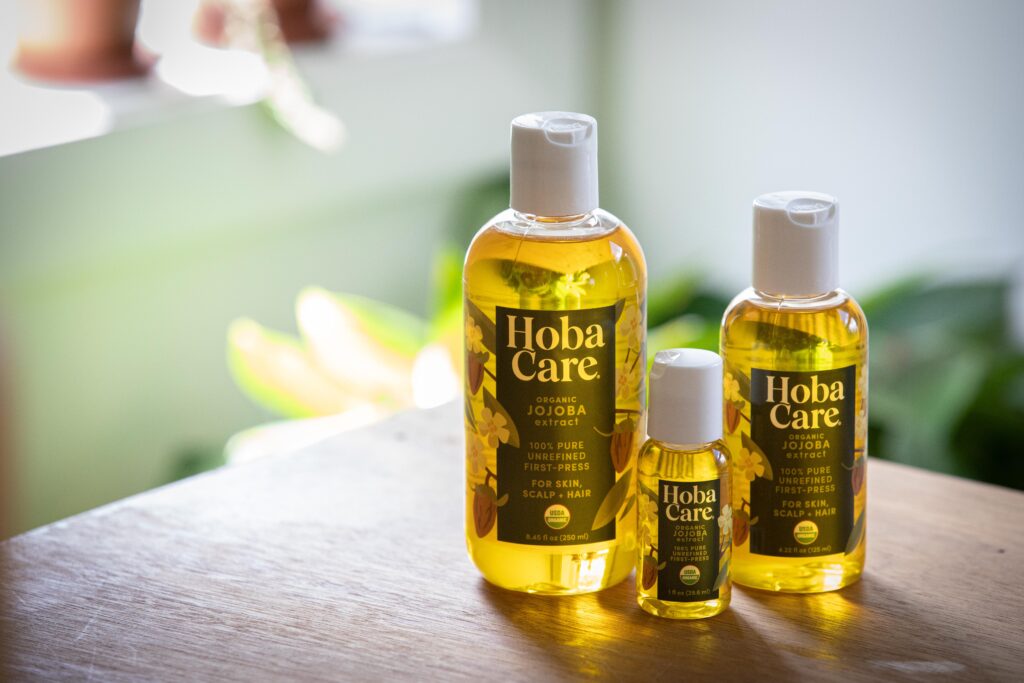 I just used your jojoba oil as an overnight mask for my scalp and hair and after shampooing, my hair felt so soft and manageable. I've been using a high quality shampoo and conditioner, as well as other oils for scalp/hair treatment, but nothing has left my hair as soft as your jojoba oil in a long time. Definitely impressed!

Krystle Duheme
What makes HobaCare Jojoba ideal for hair care?
For starters, Jojoba conditions and strengthens the hair and scalp naturally. Because of the nature of jojoba, it penetrates the hair follicle when applied directly to hair (if it's an ingredient in shampoo it will simply wash away with the product before it can be absorbed and provide the maximum benefits). HobaCare Jojoba not only conditions and strengthens the hair and scalp, but it also prevents dryness.
Some even claim that jojoba will help hair growth. Because of natural qualities of jojoba, it penetrates the hair follicle and helps protect it from drying out from sun, wind, swimming, washing, etc. Note that it also provides the same benefits to eyelashes, which is yet another reason to use it as your all natural makeup remover!
HobaCare Jojoba is far better for the hair and scalp than oils. Jojoba is not an oil, it's actually a wax ester and the nearest thing in nature to the sebum your body produces to keep hair and skin conditioned. This is why we say that Jojoba is the skin and hair product just as nature intended. You will often find Jojoba listed on shampoo and conditioner labels as an ingredient, though it's best used as a stand alone product before or after shampooing.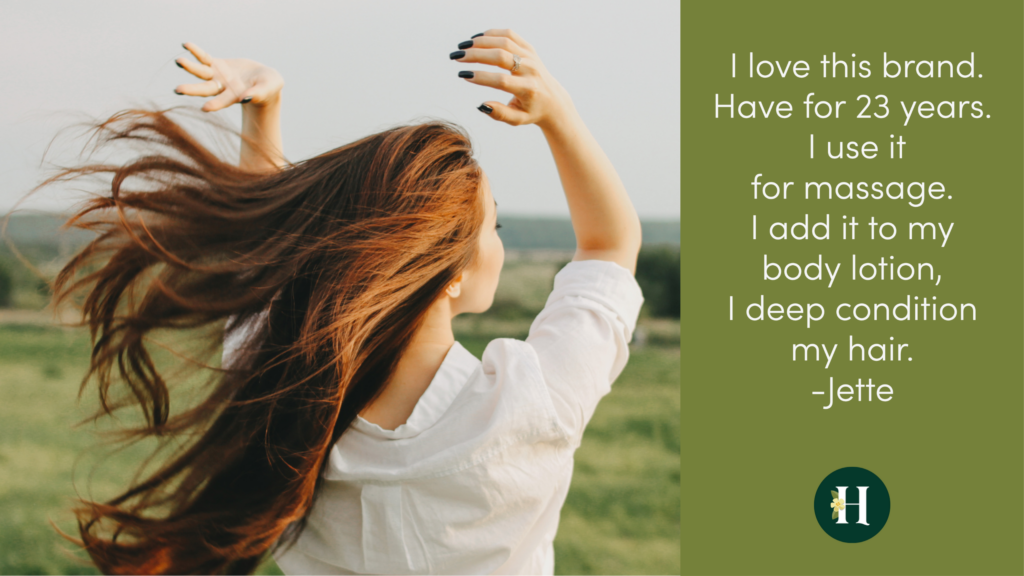 Jojoba restores manageability to hair, especially thick, dry, or curly hair (which is why it's the perfect beard conditioner). As jojoba penetrates the hair, it strengthens the follicle and helps smooth it. One of our employees has very dry curly hair and uses a few drops on the ends of her hair every single morning and often in the evenings as well along with adding a few drops after washing when her hair is wet.
Adding jojoba in smaller amounts more often will give jojoba time to penetrate and work its magic! As it does on the skin, jojoba also helps restore and maintain the natural protective barrier our hair already has (this is often washed away during shampooing).
Jojoba smooths hair and helps reduce static and frizziness. Dry air means static, and we all know that feeling of removing a hat in the winter only to find our hair standing on end! We find that jojoba helps tremendously with static in during the dry winter months we experience here in Maine (especially nice when wearing wool hats that cause extra static). Unlike many frizz reducers, jojoba does not contain any petroleum ingredients that coat the hair and are difficult to remove, jojoba is a 100% natural, plant-based product. It naturally seals the hair which helps keep hair from getting frizzy, especially when the air is humid! This is exactly why curls LOVE Jojoba!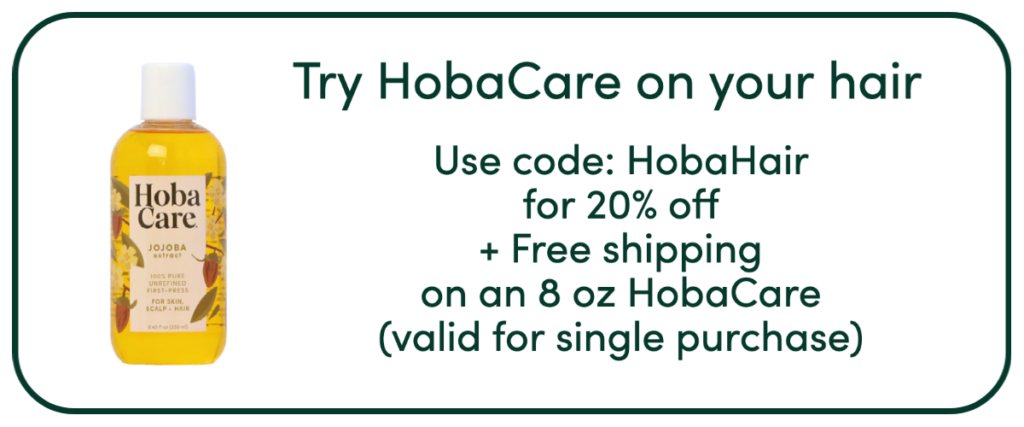 Another reason our customers LOVE jojoba for hair is that our HobaCare Jojoba is vegan, non-toxic, non-allergenic, and cruelty free. These make HobaCare Jojoba one of the best all around plant based products for ALL TYPES OF HAIR (and all skin). Being non-allergenic is of particular importance to many individuals, especially those that are currently or have undergone cancer treatments.
One study found that when using Jojoba on afro-textured hair care that has been straightened chemically "jojoba mitigates protein loss, protects the hair thread, and improves the resistance to breakage". Jojoba is also beneficial for maintaining quality of hair in non chemically treated hair as well.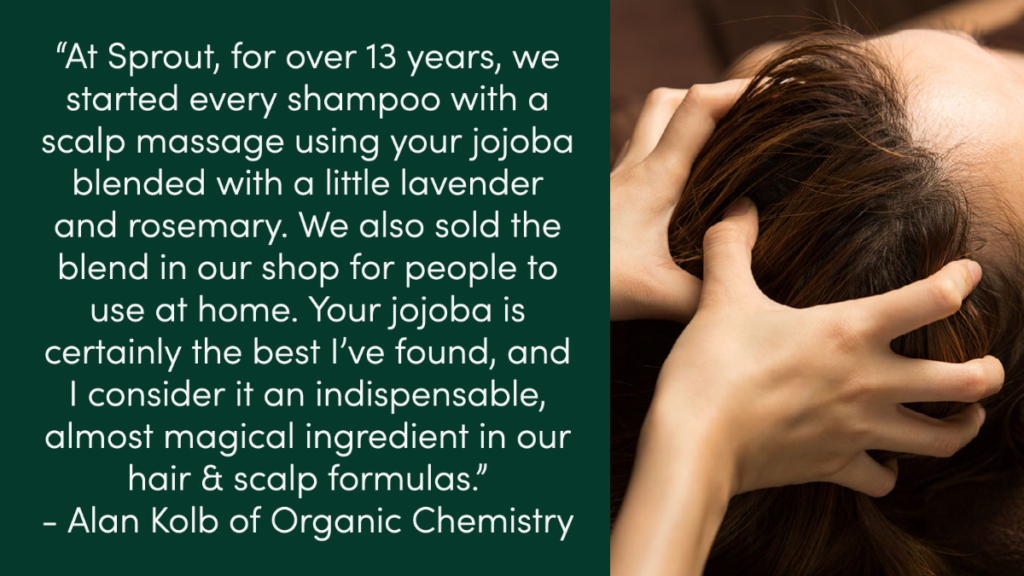 Jojoba also moisturizes the scalp and can help relieve dandruff. Because of its skin conditioning properties, it can help restore the natural balance of your scalp as it soothes itchiness. This is why HobaCare Baby is so wonderful, it relieves cradle cap effectively – see our post dedicated to using jojoba as a natural treatment for cradle cap. Not only is it great for those with lots of hair, but also helps protect the skin if you have thinning hair or no hair. See our blog post on why Jojoba is GREAT for bald heads!
Detangling is a cinch when you use Jojoba for hair car, not only does it detangle with no synthetic ingredients, it actually strengthens the hair as it work. Often tangles occur when hair is fine or staticky. Jojoba nourishes the hair, reduced static and thus can help make hair less prone to tangling over time. Using it on tangles can help reduce damage to hair follicles while combing out the tangles. To use as a detangler: first apply a generous amount of Jojoba on the tangled area and follow us by gently working out tangles with fingers or a comb. It's best to allow jojoba to condition the hair for a while before washing. After washing, apply a few drops of jojoba to hair to reduce risk of tangles and static that can cause tangles.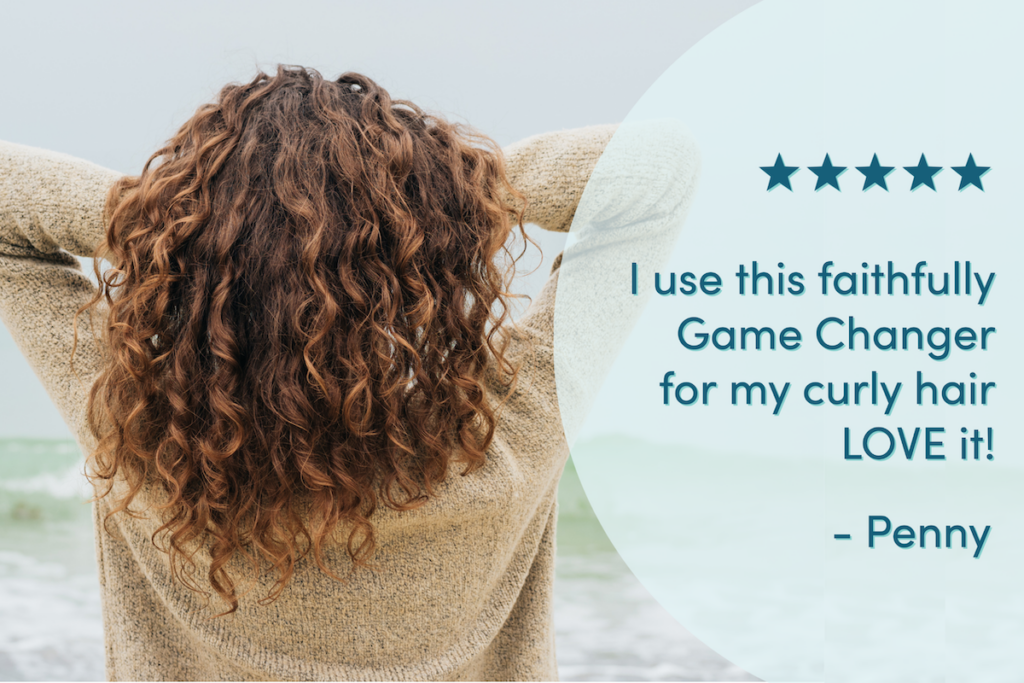 Manufacturers include jojoba for hair formulations because it is safe, stable, and mixes well with other ingredients. It gives their products a silky feeling and is known to be good for the skin. However, such formulations do not include sufficient amounts of jojoba to make a difference to the consumer. Symbolic uses of jojoba as an ingredient belie the logic of using it. Consumers want jojoba to penetrate the hair follicle and scalp. Penetration won't effectively occur if it's included in shampoos where it simply washes away. Penetration is best achieved by applying jojoba directly to the scalp and hair prior to and/or after shampooing.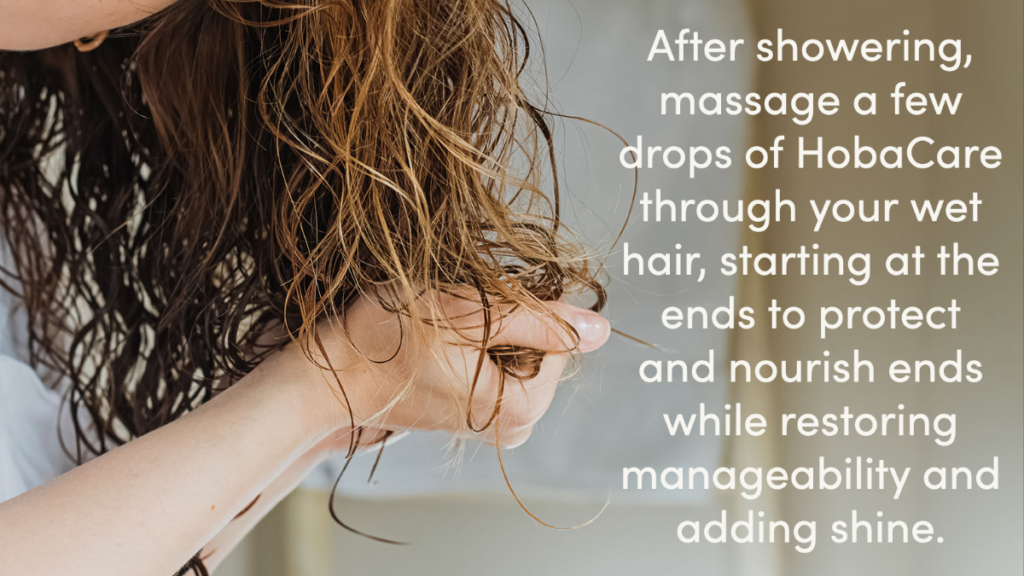 How to Use Jojoba for Hair
After showering, massage a few drops of HobaCare through your wet hair starting at the ends to protect and nourish ends while restoring manageability and adding shine.
Remember the Golden Rule of HobaCare "A LITTLE Goes a LONG Way!" this rule applies to all uses of jojoba, including using jojoba for hair conditioning. Start by putting a drop of two of jojoba in your palm, rub palms together, then apply to hair starting at the dry ends and working your way up to the scalp. If your hair seems greasy, apply less next time. You will soon discover the correct amount for your hair type.
To use jojoba as a deep conditioner, like a hot oil treatment, massage a teaspoon or two of jojoba into your hair, once again starting at the ends and working your way up to the scalp. If desired, wrap hair in a shower cap and then a towel and allow your body heat to warm the jojoba. After the desired amount of time (a half hour or more, shampoo & condition as usual, then apply a drop or two of jojoba to damp or dry hair. For extreme conditioning, apply a generous amount of jojoba to hair and leave in overnight.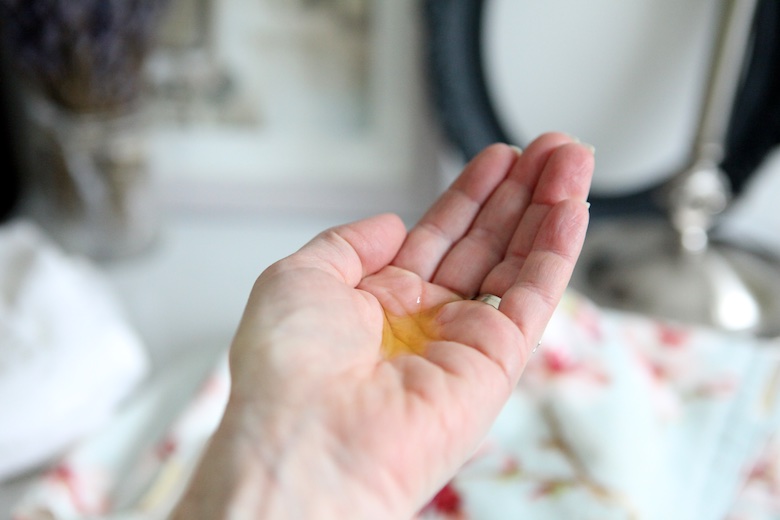 There are several botanicals that can be infused with jojoba or added as essential oils to increase the benefits of jojoba for hair care. The most well known and most often used is rosemary. You can infuse jojoba with fresh rosemary or add a few drops of rosemary essential oil to a 1 oz bottle of jojoba. If you want to find out more about the benefits of rosemary for hair see this post.
Have we convinced you to try HobaCare Jojoba for hair care? If you want naturally conditioned hair that's stronger, smoother, shinier and more manageable then grab a bottle of HobaCare Jojoba for hair care!